25th June 2023
After completing Ironman Vichy in 2018 I said never again to doing a long distance Triathlon, but Challenge Roth was something of a bucket list race and probably the only one that would change my mind.
You have to enter via ballot due to its popularity and if I'm honest, when I put my name in the hat just over 12 months ago I was sort of hoping I wouldn't get a place. But I did, and here I was 12 months later travelling to Germany to take on this legendary race.
I won't bore everyone with details of travel logistics, but if anyone ever decides to give this one a go I can certainly offer some advice, as Roth is not an easy place to get to and accommodation can be limited. We ended up staying on a holiday site just south of Roth near to a village called Pleinfeld which was perfect for our group.
Pre Race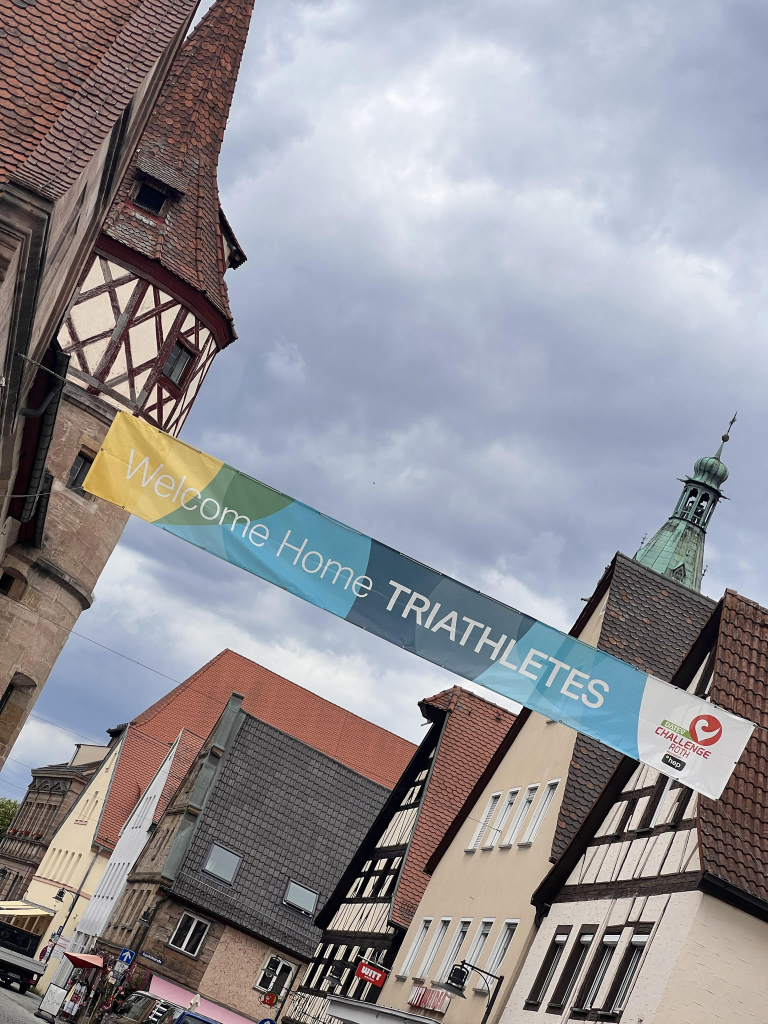 We went to register on the Friday and the atmosphere was already building. On entering Roth, you are greeted by banners of 'Welcome Home Triathletes' and you really get a sense that the whole place is behind the race. Every shop window has a message to the triathletes on display, pictures of past races and offerings of new kit/nutrition/souvenirs. There is a Roth Walk around the town, with several permanent info boards describing previous years races and casts of the wining male and female athletes feet on the ground (Magnus Ditlev has huge feet..) We entered the race area and having completed registration decided to have a wander around the expo/stadium area where we bumped into various pros such as Sam Laidlow, Sebastian Kienle and Laura Phillip.. This was really starting to feel like a big event.
The next day was bike racking and bag drop. Roth has a split transition which I am not usually a fan of, but to be fair they did a good job. You dropped your bike and helmet off at T1, and then handed in your blue (run) bag at the same time for them to transport it overnight for you to T2. Red (bike) bag had to be dropped off the next morning along with your green (post race) bag, these would also be delivered to the right spot for you when needed.
Race Morning
A 04:30 alarm went off and it was show time. Breakfast consisted of a porridge pot and a bagel, washed down with a large coffee. We got to the swim start just in time to drop off our red bags before the 06:15 cut off and then had to wait for my swim wave to go at 07:55. The time passed quickly. The atmosphere was just amazing, people lined both sides of the canal for as far as you could see and the bridge over it was just packed full with spectators.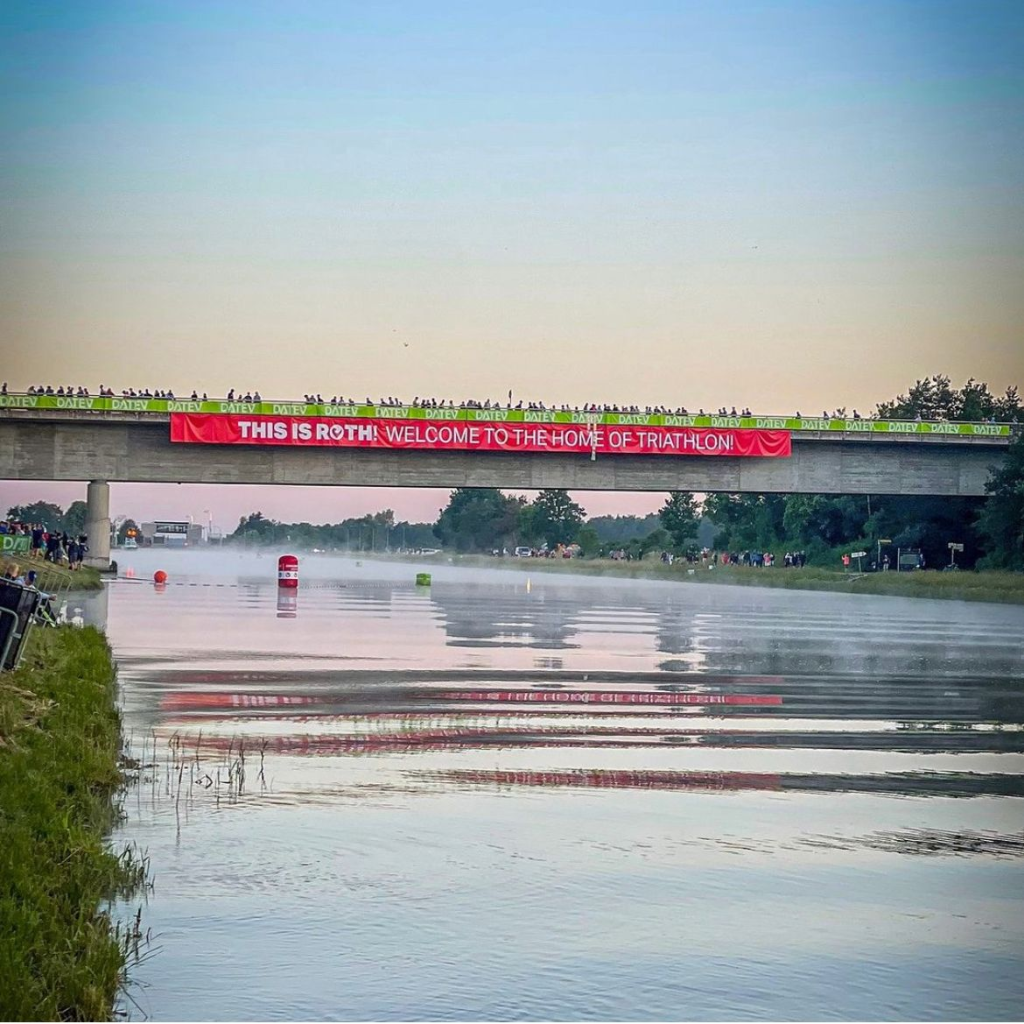 We got to see the start of the Pro male and female race, and we saw the first few males come in to finish the swim and execute a lightning fast transition, Ben Kanute showing us all how it's done. One last quick check of the bike and it was time to get going.
Swim
The swim is set off in waves of about 300 people. No rolling start, everyone in the water together and when the canon goes off you go.
So into the water, which was a very comfortable 21degC and Bang! We're off, arms and legs everywhere, the first 500m was mayhem. Once this had calmed down I managed to find some space and get into a rhythm. The swim is actually a very straightforward course, you swim along the canal in one direction for around 1500m, turnaround and come back down the other side of the canal for 2000m and then a final turn to swim back up to the start for the final 300m. The canal made sighting very easy despite the low sun, and the long straight lines helped to get on some feet and stay there.
The result of all of this was that I found the swim very comfortable, my training had paid off, the conditions were ideal and I exited the water on 1hr15min (PB for me at this distance).
T1
The first transition was a short run from the canal, grab your red bag and into the change tent. This was the first experience of the wonderful volunteers (the infamous strippers and slappers!). Challenge Roth have 7000+ volunteers on the day, that's 2 for every competitor and they could not be more helpful and enthusiastic. In T1 I had someone help to take off your wetsuit, apply suncream, open drinks bottles and help load nutrition into my tri suit pocket. Making sure to take on some fluids, a banana and an energy gel it was into the bike..
Bike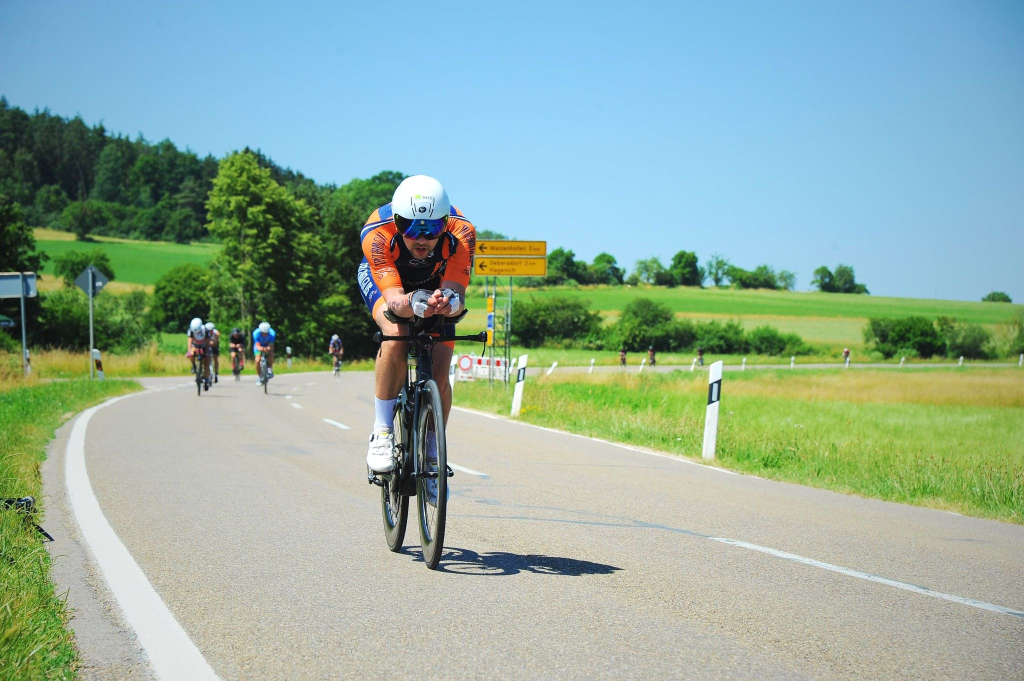 The bike was the part of the day I was most looking forward to. I had heard lots about the Roth course, but seemingly conflicting information suggested it was both a very fast but very hilly course. It turns out both statements were indeed correct.
The course is two laps, the first part of each lap was rolling through various villages and plenty of climbing. The second part of each lap being much faster, with some long sections where you could really put the hammer down and make time. The roads were immaculate, with not a single pot hole in sight and the surface was oh so smooth. They really put the state of our roads to shame. The landscape was stunning, riding through either the Bavarian country side or various picturesque villages it was a real treat. And what can I say about the support? It is hard to describe how passionate and enthusiastic the locals seem to be about this race, there were fan zones in almost every village you go through, a real party atmosphere. And between the villages people seemed to be everywhere on the course. It was just amazing, but riding up Solarberg Hill is the stand out moment and reason enough to do Challenge Roth. As you approach the hill you can start to hear the noise from a little way off, before you see the crowds in the distance. The hill itself is just under a mile long with an average gradient of 5%. For the first part of the climb there are barriers either side of the road with people behind them 4/5deep and cheering for every rider that comes through. As you continue up the hill the hoardings disappear and the people are even closer, pretty much right in front of you. It is a real Tour de France moment, riding through the crowd as they cheer you on. The noise is incredible and I will never forget this experience, it was a real goosebump moment!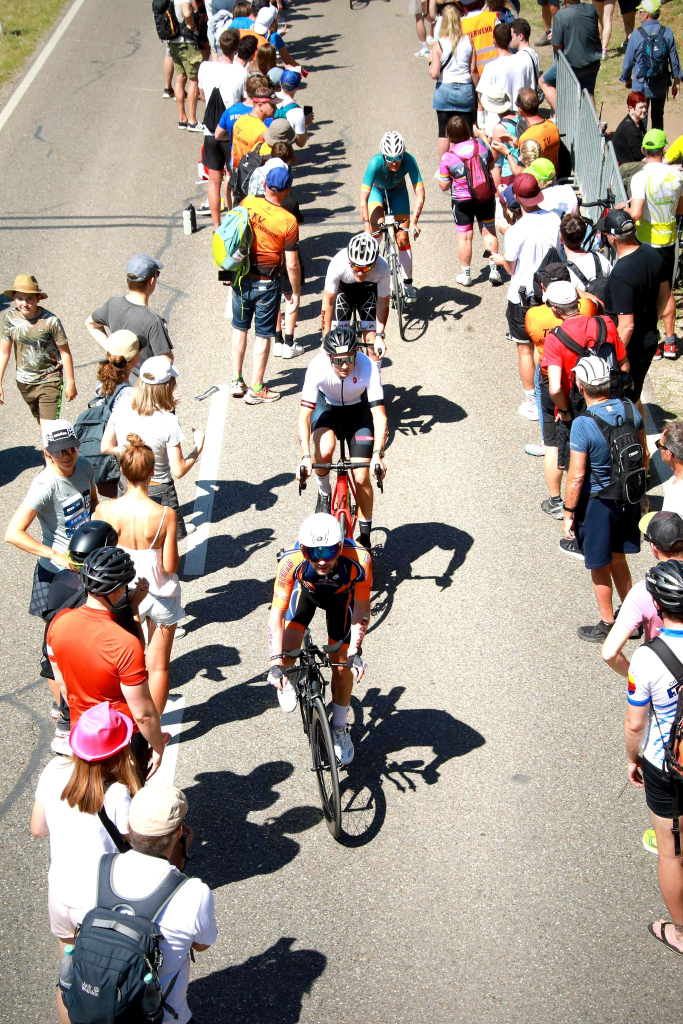 I saw my family on the course at the start of lap 2, which was great. I had planned to stop when I saw them and give the kids a hug, but a toilet break was due and I had to just wave and push on!
I was also passed by the pro field at the start of lap 2. They were really motoring, it was impressive to see!
So how did the bike go? Well, the weather forecast had suggested the wind picking up as the day went on and it was getting hotter, so I decided to push the first lap and get some way into the ride before it got too hot/windy and then settle into an easier pace for the second lap. I think this worked to a point, my first lap completed in 2hr46min meant that I was on to lap 2 before the wind did start to increase but man it was getting hot and I think in hindsight I probably overcooked it a bit on lap 1. I made sure at every aid station to grab a bottle of water to spray on myself and get my body temp down, which really helped and I took on plenty of nutrition to ensure I was fuelled properly.
I completed the bike in 5hr51min which was the better than my 6hr target, so I was very happy with that, but I was also conscious that the heat had already started to take it out of me and with the run to come I knew it was going to be a long afternoon ahead.
T2
Into T2 and the volunteers again did their thing. You dismount your bike and immediately a volunteer takes it away to rack it for you, and someone else has your bag ready and waiting to hand to you as you enter the tent. Incredibly efficient. I sat down to change and another volunteer comes over to help change kit, fill bags and even give my shoulders and calves a rub down whilst I change! More suncream applied, a gel and away I go on the run..
Run
Having not been able to do much run training due to a problematic Achilles tendon this was always about completing rather than competing. I had only run more than 6miles twice in the last 4 months so I had to hope that my body would hold up.
My plan was to start conservatively and try to build through the run depending on how I felt. I quickly realised that this was not going to be the case, as after the first mile I was starting to experience some discomfort and had to make a toilet stop. I was unable to stomach any nutrition and started to feel a bit nauseous. I'm not sure what it was, but at this point I really felt I was a risk of not being able to finish. I decided to stick to water only for a few miles to see if it would settle, and chose to keep the pace low due to the lack of nutrition. It seemed to do the trick and by about 8-10miles into the run I started to feel better and was able to take on board some energy again. Unfortunately it was about this point when my ankle decided to give up. It started with some tightness, but soon progressed to a shooting pain through the bottom of my foot. It was hot (28degC+) and the run was mostly out and back along the canal with very little support or distraction to take your mind off the pain. All in all, this was now a real mental battle to keep going.
We briefly came back into town from the canal and I saw my family supporting on the course, going over to give the kids the hug I missed out on during the bike was a real lift but by now I was in run/walk territory and trying to manage my ankle and the heat.
At mile 20-21 I was only walking, this section of the course was quite a long uphill and no way I could run it. It did at least have some shade. We were now back into Roth and there was the enthusiastic support again. This got me back to running, and amazingly with 3miles to go I worked out that if I could get back to just under 10min/mile pace I could potentially finish sub-12hrs, so I went for it. Trying best I could to ignore how my ankle felt I picked up the pace, the walking had left some fuel in the tank and I had an opportunity to have a strong finish. This was actually my favourite part of the run, I had overcome a my issues and kept going and now I was actually running to the finish!
Approaching the stadium you could hear the noise, it was loud! The stadium holds up to 10,000 people and whilst not completely full at this point, it was very busy. As I entered the stadium my kids joined me on the finishers carpet for the lap round to the finish line, coming in on 11hr57min! What a moment, I was absolutely buzzing! A memory both me and the kids will never forget and something I hope inspires them to do great things.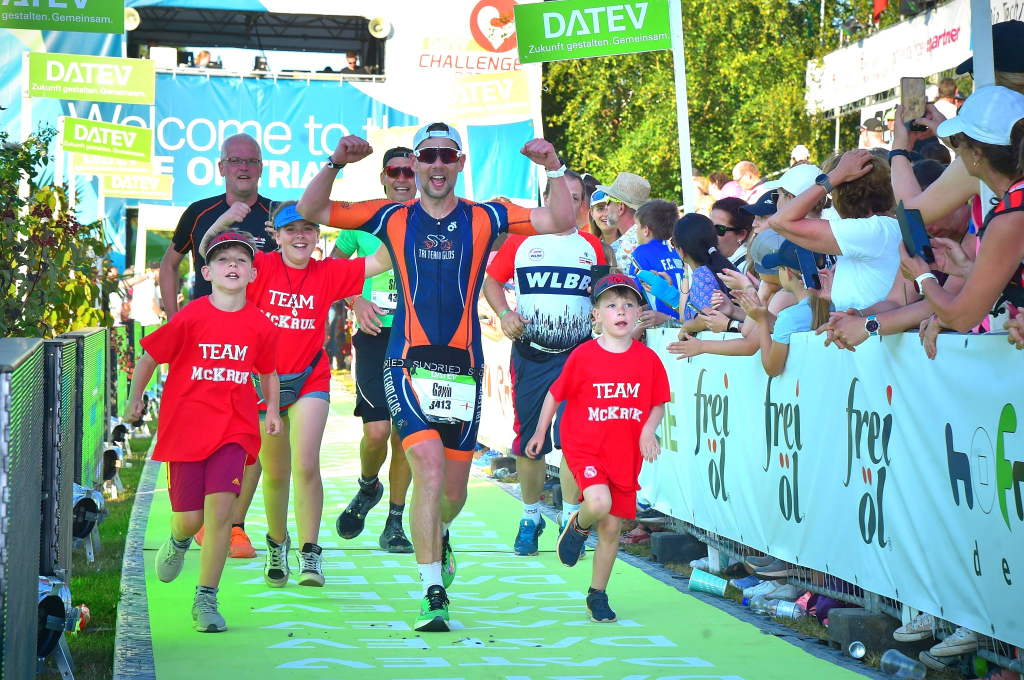 On crossing the line, my medal was handed to me by none other than Chrissie Wellington! Amazing, a few words exchanged and a very sweaty hug with a true legend of triathlon was the perfect way to finish my race! She was there all day handing out medals, and as the evening went on she was joined by various other athletes doing the same duty (imagine having your medal handed to you by Jan Frodeno or Sebastian Kienle!)
Post Race
Roth provide a shower & changing area for athletes (not a pretty sight, but much appreciated) and plenty of post race food and drink. In addition to the medal, we received a finishers t-shirt and an Erdinger/Roth beer glass along with plenty of Erdinger (non alcoholic of course) to fill it with!
We stayed for the finish line party and I'm really glad we did, the stadium is packed full to see every single finisher over the line, the music is loud and there are lasers and fire works and interviews on stage with the pro race winners. There was a moment for everyone to recognise Sebastian Kienle and his career (he retires this year and is a German triathlon legend) He was on stage and spoke about his career, and triathlon in general and was visibly emotional at the reception he received. Once the last finisher is over the line there is an even bigger laser show and more fireworks and then that's it, off home to reflect on what was one hell of a race experience.
Challenge Roth is not an easy triathlon to do. It is difficult to get a race entry, logistically it is a challenge, and the course is a lot tougher than the pro race finish times would suggest. But the race has an iconic status, the course is stunning and you would be hard pushed to find better roads anywhere in the world I'm sure. The whole area is triathlon mad, and the support is better than on any race I have done before. Solarberg Hill is probably the closest any of us will get to experience what it would be like to ride something like Tour de France. I would absolutely recommend this race to anyone considering a full distance triathlon, it is absolutely epic!