Training Round Up:
First week of March completed and what a busy week of training it was!
Monday kicked off with a social out and back run along the canal.
Tuesday's coached run session saw the intensity starting to increase as we move into Spring. Runners stuck to endurance pace but increased the number of laps on each interval. Remember this is a session suitable for all paces and fitness levels!
Wednesday's swim session mixed up the pace over 100m and 300m sets, broken up into aero and fast – great effort by all. Don't forget the great news about a new Monday night swim session – see below for info!
Despite some fabulous excuses this week including feral animals, a good group still joined Gordon's Zwift meet-up to do some FTP development efforts. Don't forget you can request to join the club's WhatsApp Zwift group for more info.
The weekend saw two rides offered, with our bike co-ordinator Pete Jones taking out a group on Saturday morning followed by Gordon taking to the hills on Sunday – have a read of the write-ups below.
Make sure you keep up to date with what else is happening around the club too…
AGM
Two weeks to go!
Where will you be on Monday 27th March at 7.15pm?
At the Gala Club, catching up with fellow members over a drink and some snacks, on all things TTG – that's where!
It would be great to have you there. There's also the chance to get involved with the club committee, with some existing and newly created roles needing to be filled. Get in touch with our Chair, Katie Weeks or any of the committee for more info.
TTG Club Race 2023 and parkrun Takeover:
A reminder to please keep promoting our race, taking place on 28th May 2023!
To help with this, we're volunteering at Newent parkrun on Saturday morning, 25th March. It's a great chance for us to hand out race flyers and fly the TTG flag. We need more marshals and pacers so please get in touch with Jon Murgatroyd if you can make it.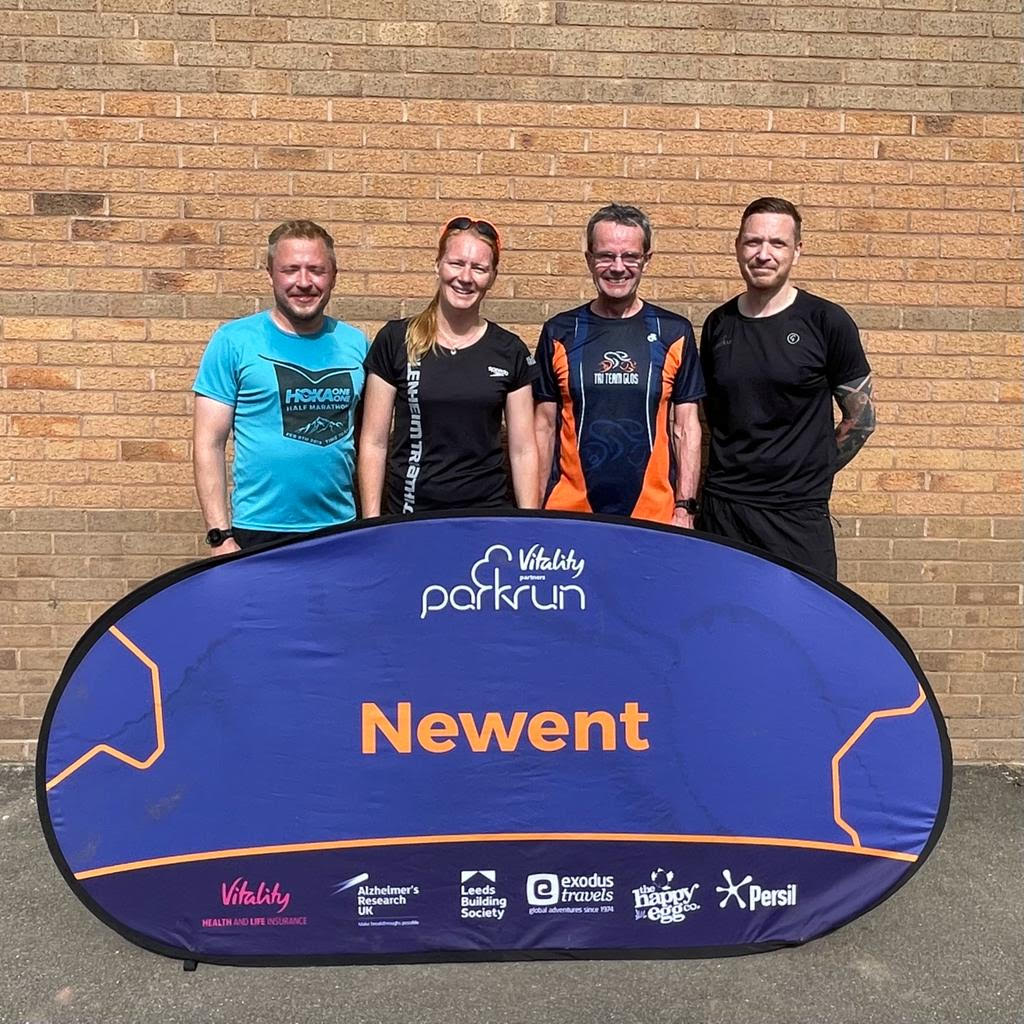 Coached Swims
A second weekly coached swim session is back!
After a lot of work put into looking at all local options, Pete Beaumont has secured use of the Twyver pool at GL1 (the same pool we use on a Wednesday). The session will be Monday evenings at 2045-2145, three times a month.
Let Pete know if you can make the session by completing the poll on the club WhatsApp group. We're kicking the sessions off with a 2 month trial, with the per session cost of £4.50. If we get enough numbers over the 2 month trial we can commit to running the sessions permanently.
First session will be Monday 3rd April, with a great mix of drill work and main set.
Weekend Ride Reports
Pete Jones' Ride out:
I thought I'd offer a different start point and slightly later time for this Saturdays ride and after a bit of cajoling I was joined by three other members – one took the more relaxed option of bringing his bike in the car to our meet point, whilst the other two braved the cold on the ride out from Gloucester.
We headed north with a good tailwind along the Ham road passing some nice Severnside villages and very few cars. Family duties meant we waved Chris off at Forthampton. In Upton we turned round to face the music in the shape of a chilly northerly breeze, practiced our bike handling skills (as in carrying them) through some road works then shared the load back towards Ashleworth. A nice coffee stop at The Hub made for a good end to a bracing ride!
Andy Jones said of the ride: 'I struggle to attend all of the bike meets but when I do I always enjoy it. I always feel safe, I always learn something, the pace is always achievable and the company is always good. I really hope in the future I can make more group rides'.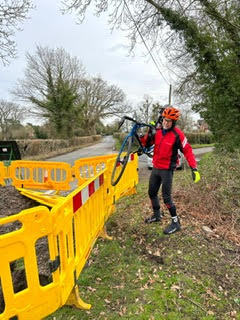 Gordon's Sunday ride:
Two hardy souls set off on the Sunday ride this weekend. With the cold weather being replaced by a strong wind, conditions were tricky so the decision was made to head for the hills in search of shelter. The first gentle climb of Horsepools hill was made harder by a stiff headwind and the following descent into Stroud proved equally as testy.
Some respite followed along the golden valley and progress was interrupted only by a couple of sets of temporary lights . Hyde hill provided a little more shelter for the second climb which led us onto the top of a very blustery Minchinhampton Common . Another tricky descent to Avening following the 10k route round and back up past the golf course for the third climb of the day.
Perfect timing saw us back at Minchinhampton for the start of the annual 10k road race but with the weather looking increasingly ominous we swiftly departed and descended the W's into Nailsworth for the fourth and final climb. This proved to be the toughest of the day with a block headwind all the way up to Nympsfield, both riders cursing the wind by the time the village appeared. More caution on the descent of Frocester Hill was followed by a swift tailwind assisted blast back up the A38 home. The mucky roads left both riders rueing their selection of summer bikes without mudguards that needed extensive cleaning – but grateful for getting in some outdoor miles. More of the same next week hopefully!
Taurus Duathlon Race Report
Courtesy of Mike Daly who competed on the 12th with a time of 2hours 21.
---
This was my second year having a crack at this rather hilly duathlon and it was well worth it. I had a better road bike this year, making the rough Forest of Dean back roads seem much 'smoother'. The regular bike riding and fuelling advice from TTG gave me the strength to tackle the hills, even to the extent of overtaking a few riders instead of being constantly passed.
The ride of 23 miles with 1,900 feet climb is certainly challenging but finishes with a long, long downhill. The race starts and finishes with a 3 mile out and back run. Very thoughtfully, the organisers managed to find a hill to send us all up. Nearly everyone gave it a good go first time round, but after the gruelling bike ride, the second run looked more like a mountain hike and plenty of people were walking.
It was a well organised, relaxed, family-friendly event, with great facilities at the Taurus Centre for toddlers, parents, grandparents, friends and family members who just want to support. The Taurus Centre opened early and provided hot food and drink, and the swings seemed very popular with the younger ones. Marshalls were only on the bike course at two points and not on the run at all, so keeping your eyes open on the course was important.
A few Tri clubs were represented from Bristol and Wales and it would be a good race to have a TTG 'team' presence. Perhaps next year!
Very happy with my result although more impressed by the 72 year old who was just behind me. He did however have Ironman tattoos so clearly he had form!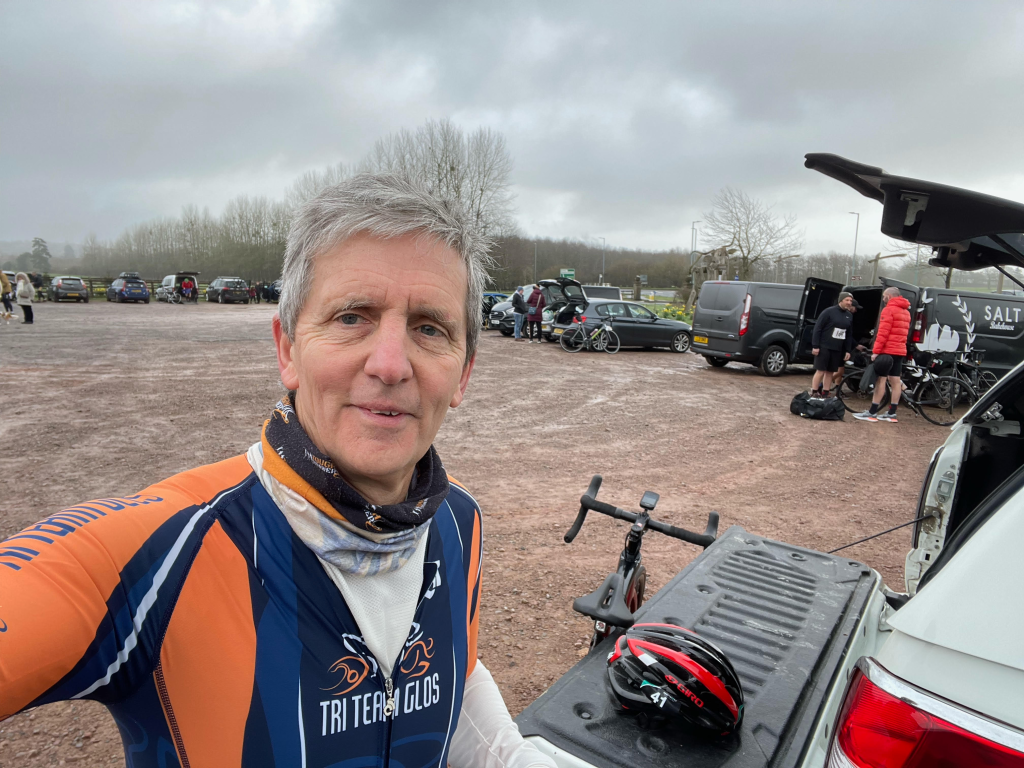 Next Week
Monday
Social Run (Meet at 6.15pm in Sainsbury's car park)
Ping Pete B for details
Tuesday
Coached Run at Oxstalls Campus
Wednesday
Coached Swim at GL1
Thursday
Zwift (Check Whatsapp for Details)
Friday

Saturday
Ryan's Social Shebang (50k from Churchdown)
Message him for more info or to let him know you're coming
Sunday
Bike TBC