Parkrun Takeover
On Saturday, the club continued it's support of the local ParkRuns turning our attention to Newent last weekend for another "takeover". Around 15 members of the senior and junior clubs turned up to fill marshalling and finish line slots and also provide pacers to help parkrunners achieve their goals. A great turn out of over 70 were steered and cheered by TTG and we've had great feedback from those who took part.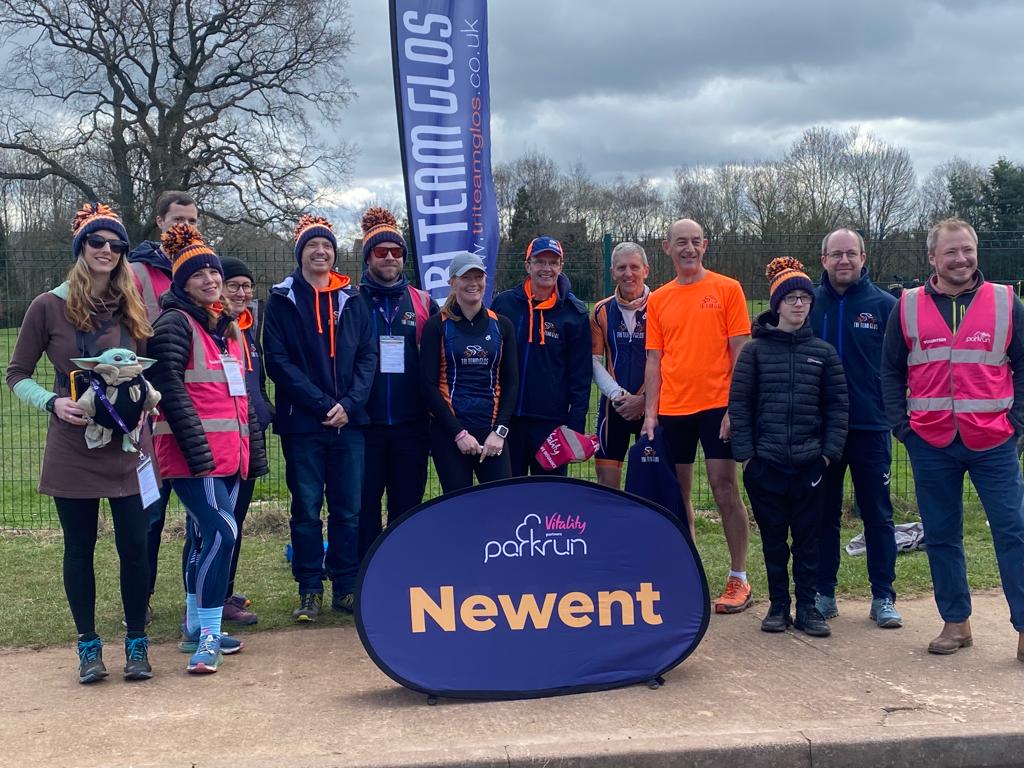 The next takeover is on the 29th of April, please speak with Jon M for details, the more volunteers the better, and it's great fun!
Bristol Bash Audax
By Katie Keates
On Sunday 26th March 3 TTG'ers met in Bristol on a very damp morning, minus an hour's sleep and with some trepidation of the day ahead.
Katie Weeks and Ryan had done Audax before, I had not. In my eyes it was a kind of treasure hunt with some cycling in between…….
That's kind of what it was…… the treasure being the most amazing array of cakes at the 2 control stops and a very welcome bike mechanic at the second stop!
The ride (an Audax is definitely NOT a race) started at 0930, we had downloaded the route and headed off to the first control stop at 40km. We settled behind a group of about 15 seasoned audaxers……however, one of our TTGers wanted to go faster and after some persuasion the 3 of us made a break from the group.
Obviously we couldn't make it stick and ended up just pulling the group along until they overtook us and spat us out the back!
Licking our wounds we decided to stay at a chilled consistent pace from then on.
We made it, damp and muddy to the first control, where we were thanked by some of the group for pulling them along!!!
Tea drank and a selection of cakes eaten, we headed off for the next stop which was 20km away. A control marshal had told us it was a "bit draggy with a bit of a hill".
A bit of a hill was an understatement and my stupid computer paused 3 times while I was going up the hill as it thought I had stopped…… I was just going that slowly while stomping on the pedals!
Katie and Ryan were waiting at the top and had answered the info question, so after a quick gel and energy bar we set off for the next control at 84km.
This section was super damp with some big puddles to go through and some areas where a mountain bike would have been preferable!
This was also the section where my chain got jammed between my frame and front cassette, an unusual mechanical but, with the help of a fellow Audaxer we released it and made it to the checkpoint, where the mechanic checked it and said it was all good to continue…..
More tea and a sandwich consumed we headed off on our last 31km.
This section's chat highlights included "what radio station do you listen to?" and other such gems to distract ourselves from more muddy puddles.
We caught up with my chain saviour audaxer and I stayed and chatted alongside him. Unfortunately after I left him I was in no man's land as Ryan and Katie were up ahead, out of sight, and this led to a wrong turn for me (despite having the route on my computer right in front of me) and an extra bit of elevation to get back to the right path!
Another monster hill done and the view of Bristol admired and we were on the home straight!
The spirit of Audax is super friendly and many people chatted and swapped stories and helpful tips. Especially useful when we missed the last info point (the last digit of a telephone box number!) and a fellow audaxer helped us out!
Overall a great day despite the weather and the hills it was a very friendly well organised event.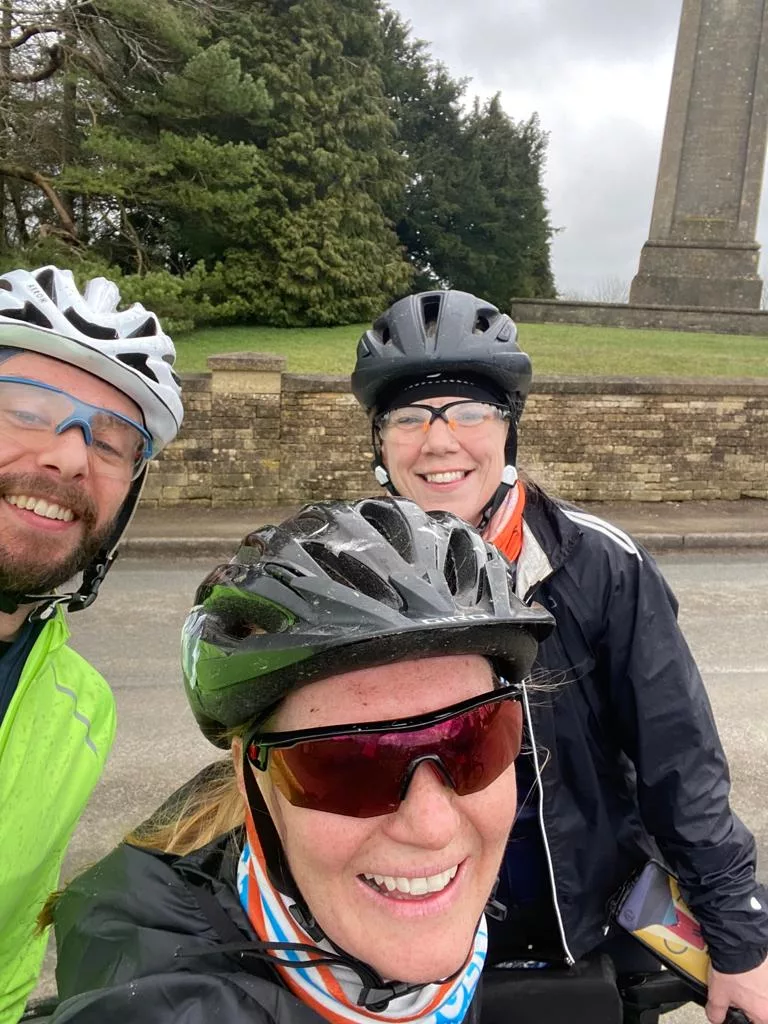 Tough Runner Cotswolds Classic Duathlon
by Dave Heywood
Sunday 26th March saw Dave Heywood and Adey Cole take on the "Tough Runner Cotswolds Classic Duathlon". Originally the "Westonbirt Duathlon", but apparently "pure greed" from Forestry England (Tough Runners words, not mine) forced a move to the Notgrove Estate, just west of Bourton-on-the-Water.
One rookie mistake was booking an event on the day the clocks change, with registration at 0630hrs, it felt more like 0530hrs. Clocks aside, the weather also decided this event needed further challenge, so as Adey and I got out of the cars, we appreciated the 4'C air temperature and the rain. Bikes were setup in transition and we went for a "warm up" jog along the first part of the course. Hills, big blooming hills and fields, at least we'd both had the foresight to bring the trail shoes. Talking of foresight, Adey popped his base layer on and I realised my standard race kit of "short sleeved bike top" might not be up to the task, so the use of Adey's spare arm protectors was very much appreciated.
The start felt a little lighter than the 250 or so who were on the email giving out numbers, I felt I had a chance of coming in the top 100 (was fairly confident there were fewer than 100 at the start line!). Despite Adey having felt under the weather for much of the week, he was off the start at a decent pace, I'd not see him again until the finish line. The first run part of the run was downhill, then uphill and then down again, but thankfully eventually flattening out. This was very much cross country territory as the fields made way to a stream, and then off down a track. Some runners had up until this point carefully navigated the course to keep their feet dry, but the half mile track provided no opportunity for people to keep those dry feet any longer as they discovered some of the finest, deepest and muddiest puddles Notgrove could provide. Another mile or so across a farmers field, we met our old friends the bloody big hills and then returned to transition for the bike leg.
Thankfully the bike leg did not continue the "off road" theme we'd experienced so far, and nice flat tarmac took us off on an enjoyable route. Whilst the weather was still horrible at this point, cold and rainy, the ride was pretty much traffic free (0830-0900 on the day the clocks went back!). We turned onto Stanborough Lane and on towards the outskirts of Bourton-on-the-Water, heading left off the Fosse Way and up a slow climb up Buckle Street. Left onto the B4068 (I'm sure it has a nicer name, but B4068 or "yet another cold wet tarmac road" will do for this report). Another nice clear run had us then turning back onto the A436 to then cover the last couple of miles back to transition.
A nice quick transition then saw the soggy and muddy shoes back on for the second run. You know the story by now, big hills, stream, puddles, field. There was more than one occasion on that second run where I had to look down at my shoes to confirm I was still wearing my trainers as I'd lost most of the feeling in my feet to the cold. Thankfully, episode 2 of this run course came with a finish line at the end. Adey was already there, I'm pretty sure he'd already showered, changed and popped his dry robe on by this point. I crossed the line in a little under 2 hours and the first (and hopefully muddiest and coldest) race of the year was done. A nice reminder that these things aren't always a walk in the park and it's the training and mental fortitude that gets you around. We picked the bikes up and got some dry clothes on. With my "4WD Lock" button on, I left the muddy Notgrove behind. My poor "summer bike" was due an appointment with the hose pipe back home (as did the shoes and everything else).
In Numbers
From the briefing email sending out numbers, there were around 250 registered for the event. 92 finished. The first placed (mountain goat?) completed the first run in 19 minutes 15 seconds!
Provisional results show Adey in 27th place with his first run an impressive sub 25 mins effort, a 48:05 bike leg and then the second run 27m37s, a total time of 01:42:42. Those PB's at the PSUK Cross Country National Championships obviously put him in a good place for a race like this.
Scrolling down the results my slightly more modest effort comes in at 55th place, but I'm happy with that. "Middle third" is what I'm aiming for much of the time, and I'm very much in the "complete, not compete" group, so it was nice to get another race done. My first run was a 28'46, the bike came in at 55:19 and the second run a smidge over 31 minutes. A total time of 01:58:36, so happy with keeping this side of 2 hours.
In summary, it was nice to get back to a race, but with my last race being the Reading Olympic Tri (finishing with a 10k comprising of 6x laps on a grassy course around the lake), I am very much looking forward to getting back onto tarmac for some races. Someone please tell me 113 is all on tarmac…. Flat tarmac? No laps? All downhill? I'm going with that, please nobody shatter that illusion.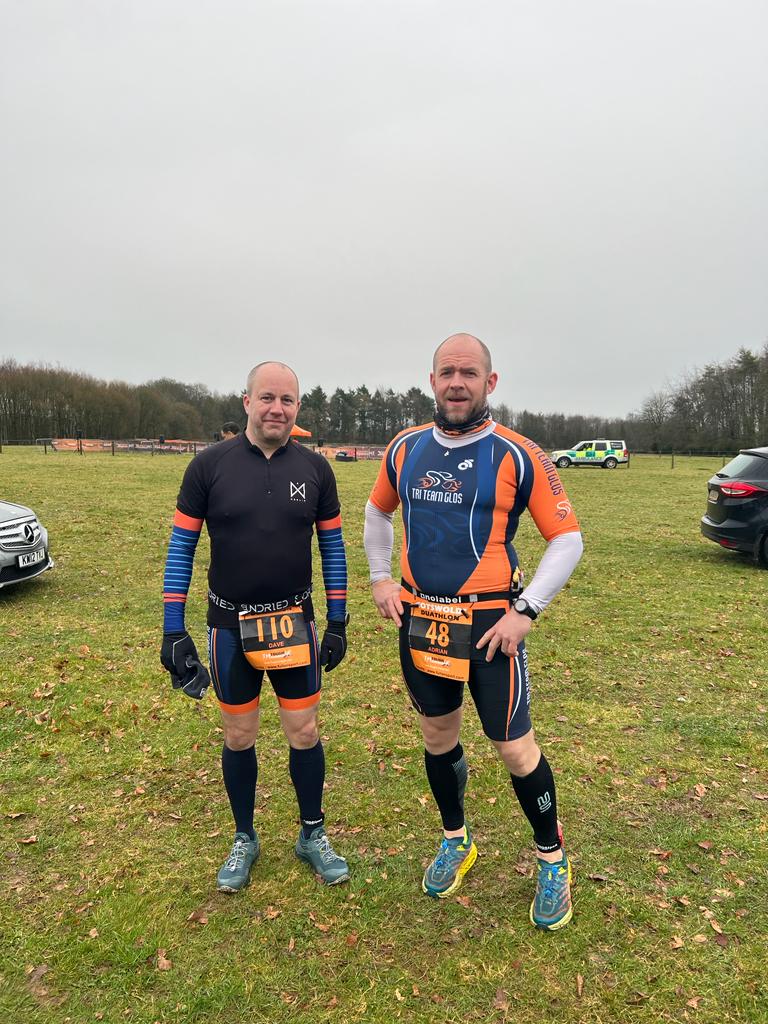 Swim Update
Monday swimming starts next week at 20:45 at GL1. We're looking forward to seeing as many of you there as possible.
As I announced last night at the AGM, we are having to raise swim session prices to £5 to match the increase in pool hire charges. To that end, can I ask people to amend Direct Debits (DD) as follows.
If you swim Wednesdays only, please increase your DD to £20/month from 01 Apr (your DD should currently be £18).
If you will be swimming Mondays and Wednesdays, can you please increase your DD to £35/month from 01 Apr.
If you will be swimming on a Monday only, can you please set up a DD for £15 from 01 Apr.
The club will offer a free introductory session for those swimming on a Monday, so I'll make a £5 refund to those who set up DDs as described above. Paying the refund is going to be a lot easier for me than the alternative of asking people to adjust DDs twice to take account of the discount for Apr.
Happy swimming everyone 🏊‍♂️
Next Week
Monday
AGM (See above)
Tuesday
Coached Run at Oxstalls Campus
Wednesday
Coached Swim at GL1
Thursday
Zwift (Check Whatsapp for Details)
Friday

Saturday
Ryan's Social Shebang (50k from Upton St Leonard's)
Message him for more info or to let him know you're coming
Sunday
Adey hosting the "bridge loop"