A lot to go through in this 2 week round up…. Grab a coffee (and/or cake … we won't judge) and read away….
Weekend Rides
With the Cotswold 113 Middle Distance Triathlon featuring heavily on the club on the weekend of the 3rd June , no formal club rides were offered to the membership. However, the weekend of the 10th and 11th offered two rides in the form of 70km approximately led by Chris B on Saturday and 80km led by Jon M on Sunday. Uptake was low on the rides however, the glorious weather, including the odd rainstorm on Sunday, did not stop members being out enjoying 2 wheeled fun in club colours.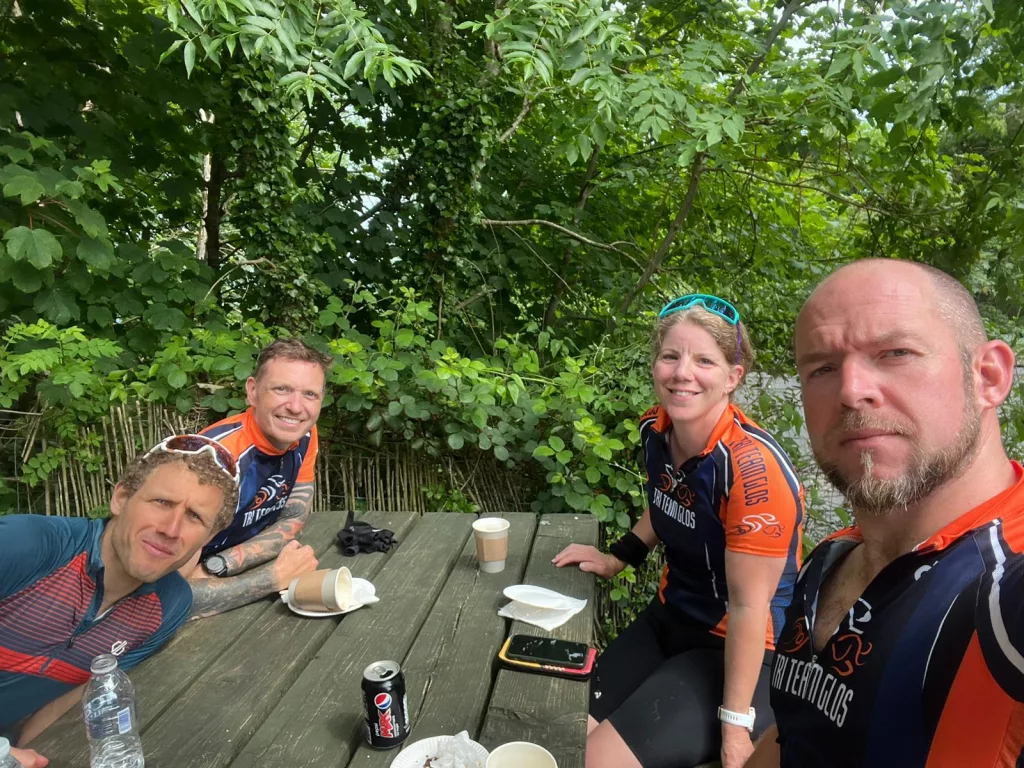 Jon M wrote up about the ride…
My training for IM Wales continues and this Sunday it was time for a 3hr "lumpy" ride, so I put together an 80k route starting out from my home town of Newent and a rowdy bunch of TTG'ers, Adey, Katie K and Eugenio, joined me bright and early Sunday morning. First hurdle, due to the 113 race a week earlier Katie didn't have her Wahoo mount… a quick rummage in my garage and a suitable mount was fitted then we were off…
…and immediately into some super sketchy, bump, gravelly single track lanes with some cheeky climbs and descents. Not ideal but kept us all focused and the pace very social. Once we'd navigated past Richard Hammonds mini-castle we made our way to a Hole-in-the-Wall, sadly not a pub but an idyllic hamlet next to the River Wye complete with the most rickety looking rusty bridge over the river. We finally found a way to make Adey smile though, standing on the dodgy bridge for a selfie 😊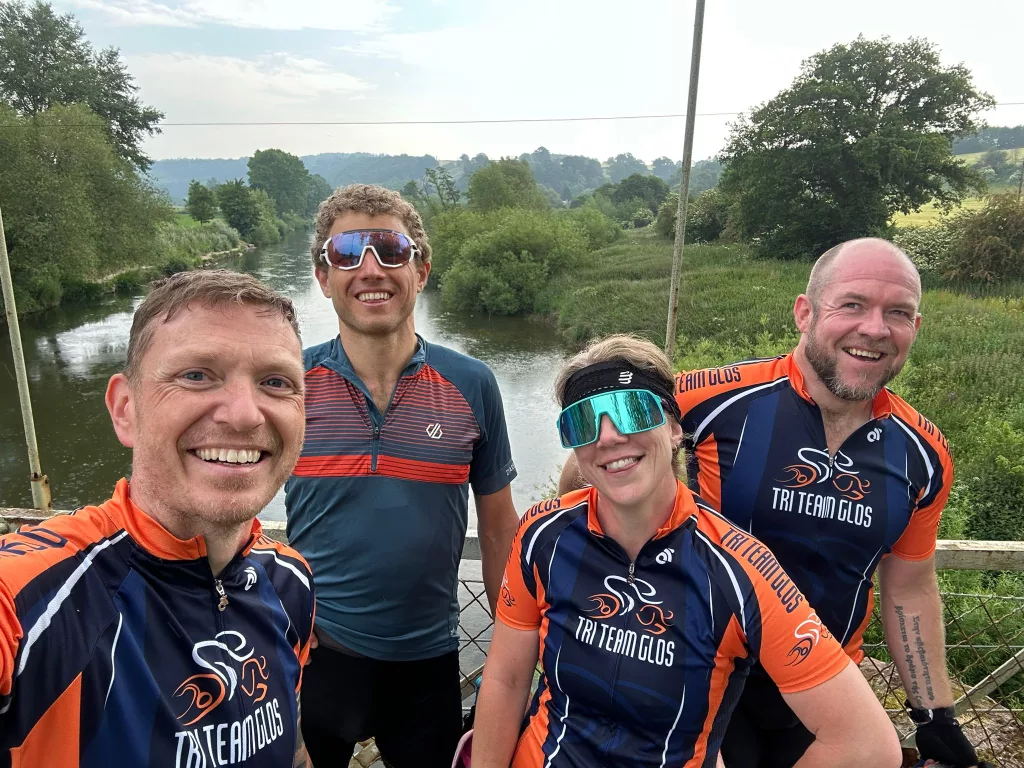 Onwards and upwards we churned through the rolling terrain, Eugenios ClimbPro on his Garmin alerting most of them but giving us all a false sense of "yay that's the last one!" only to discover a few more. The pace had been super leisurely until this point, nattering away and taking things easy, when we dropped out onto some more major roads and here is where Adey came into his own, by kindly acting as a windscreen for us all! He bravely put himself on the front and we all tucked in for some 20+mph goodness as we raced our way towards Ledbury whilst he took the brunt of the flies.
Once in Ledbury it was a chilled spin through the centre before turning left and almost immediately starting the long climb up towards British Camp. Now on Strava made this look a long climb but as often is the case once there it wasn't actually that bad and it wasn't long before we pulled into the café carpark at the top of the climb. Naturally we all tucked into various drinks and cakes, and very good cakes they were to, probably tasted better cause we'd earned them!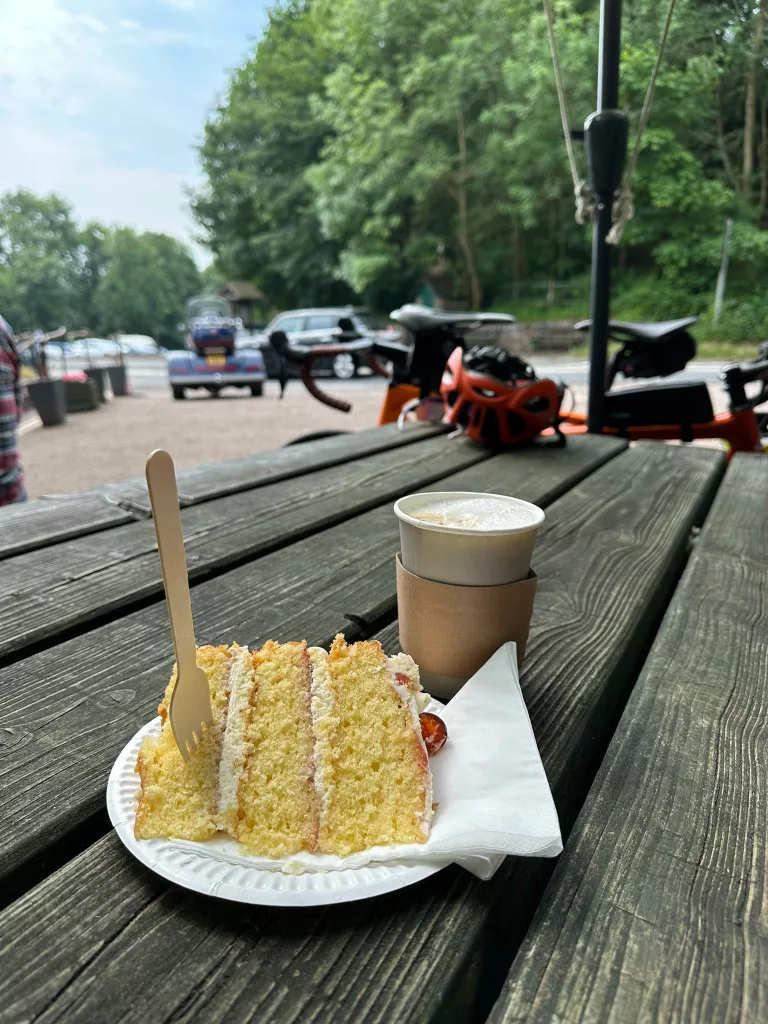 This was the hard part of the ride done, from here it was a glorious decent down through Little Malvern where Adey was buzzing from hitting 46 mph (74 kph)!! Always the reward for the hard work, can't beat a decent safe, fast descent. From here it was just a rolling ride home which should have been uneventful but within a few minutes of spotting dark grey looming clouds ahead the heavens opened and we were instantly soaked though. Still mighty warm though so was most welcomed.
Eugenio peeled off towards home (having ridden over to Newent) and we trundled back to the start all agreeing it was great company and a great route with a bit of everything thrown in.
The rides are great fun, and thoroughly enjoyable. All rides are "no drop rides" no one gets left behind. Sometimes the distance and or pace will give you a guide about the ride, but it is always worth contacting the race lead if you want to know more or are unsure.
TTGers in action
Other than the obvious big event, other TTGers have been out and about doing their thing in the last week or so.
Gordy took on the DRC 10 Mile TT U7b course again on the 1st June and despite "More power" there was "more wind" so finished with the same time. Great Work G.
Martyn Carruthers took part in the Castle Coombe Wednesday night duathlon on the 7th June, you can read his report here. Great to see Martyn getting his racing mojo back.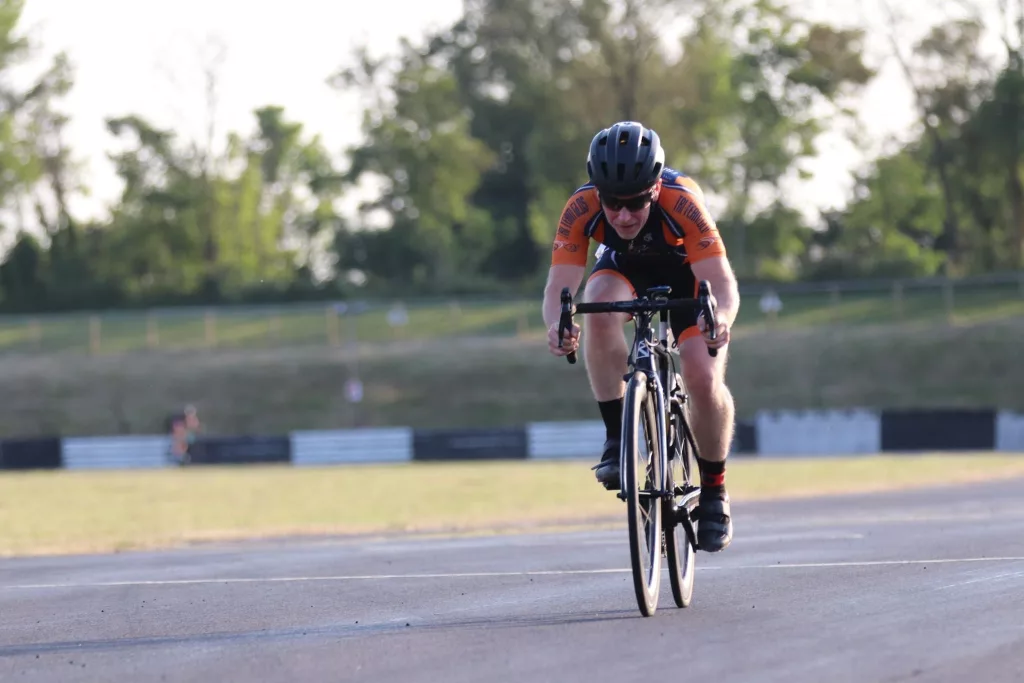 Tom Sawyer reported back that he did the 5k Great North Swim on Friday 9th June , completing the course in 1 hr 27! Great achievement Tom, well done.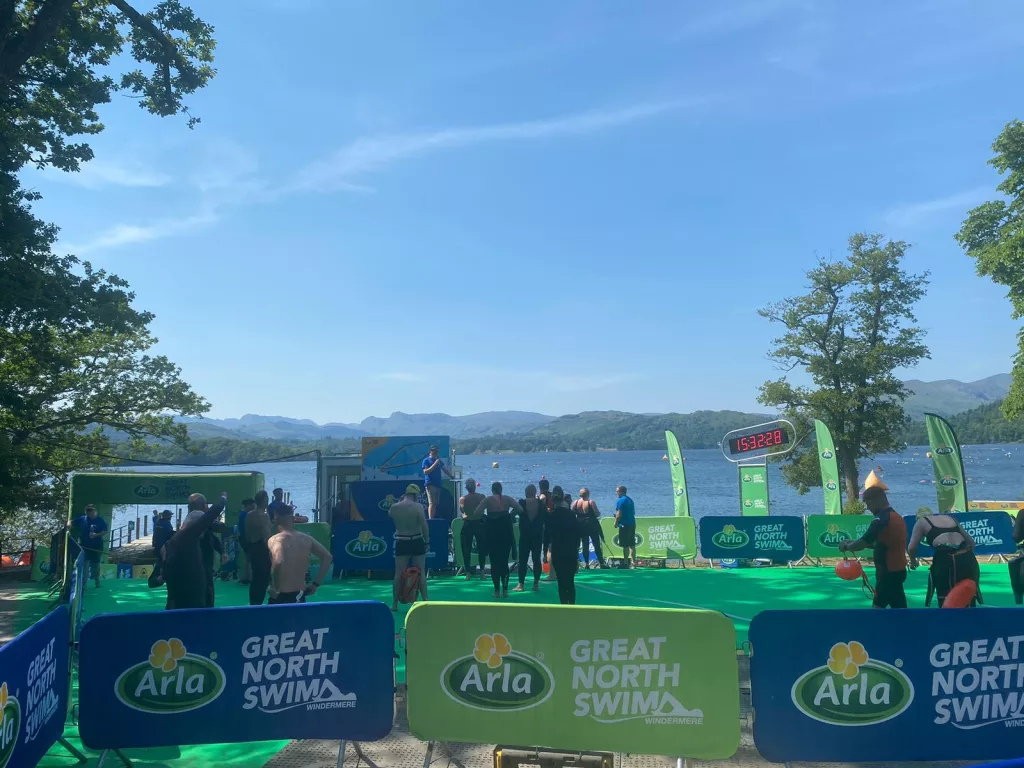 Lover of crazy events, Mike Daly took on Man v Horse which does exactly what is says on the tin. What it doesn't say however, is that it is over 20miles. Not only that, they chuck in a few hills for good measure. Mike completed the event, well done MD. He has also shared a race report! Cheers Mike!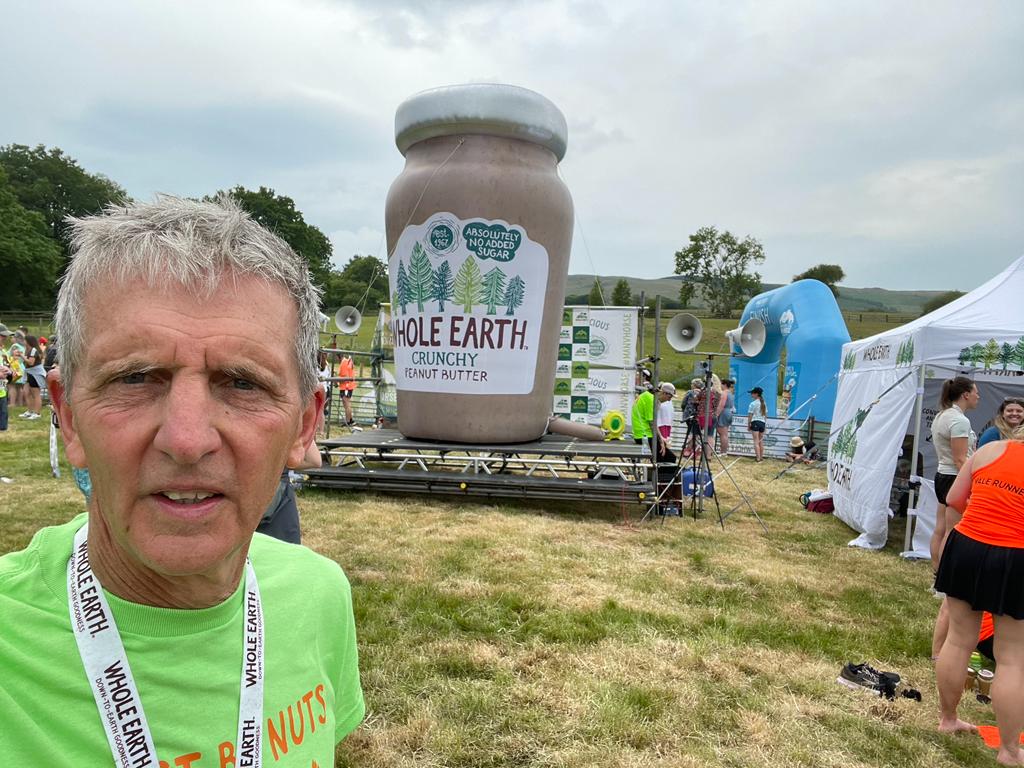 Coming Up over the next coming weeks:
Lizzie Clegg is taking part again in the Midweek Aquathon on Wednesday 14th June at Lake 62.
Gavin K is taking on Challenge Roth on 25th June 2023. (2 weeks away)
Adey and Katie K are giving the Super League Format a go at the West Country Water Park, Bradley Stoke on the 30th June. 300M Swim, 4km Bike, 1.6km run… three times consecutively.
GOOD LUCK TO ALL OUR MEMBERS mentioned above, and if you have an event coming up, shout up… there maybe another club member entered or interested. You may even entice one or two out to come and support….
Cotswold 113 Middle distance Triathlon 2023
Race report from the 113 weekend 4th June From Ryan

For anyone associated with the club who didn't hear, 19 intrepid triathletes turned up as a mob
to the Cotswold 113 middle distance (70.3) race, gazebo and all.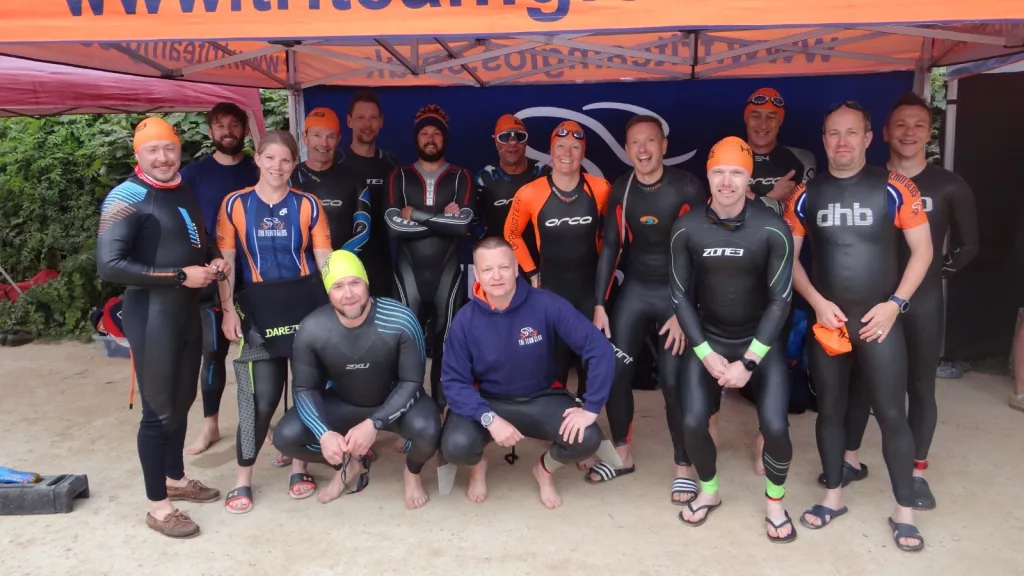 The suggestion was made many months ago – 'Anyone fancy this?'
Who doesn't like a popular local race? And on top of that, if we could find 10 people interested
we would benefit from a discount! I was surprised that initial interest crushed the target of 10
members. In fact we had over 20 but due to various commitments along the way our numbers
tracked down slightly.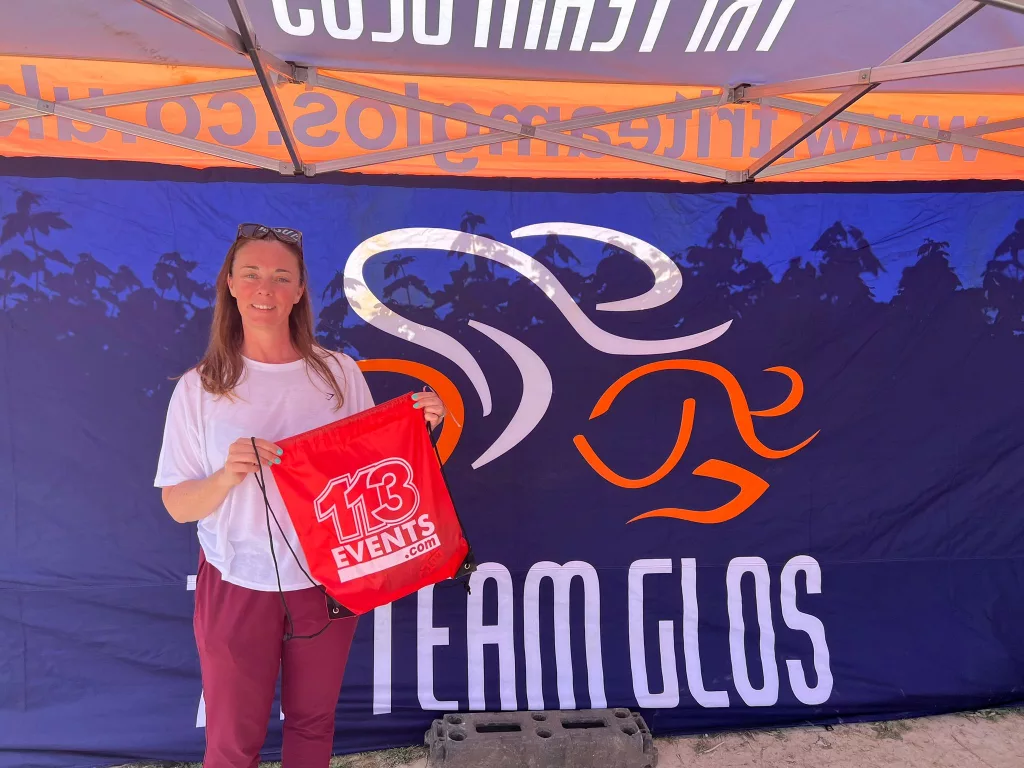 My summary of the day is that it was an incredible success. We had first timers and more
experienced heads who may not have done the distance for a while. We also had fantastic
support on the day from club members, friends and family and even a prospective club member.
Special guest appearances from both Eugenio and Dariusz were also noted and appreciated.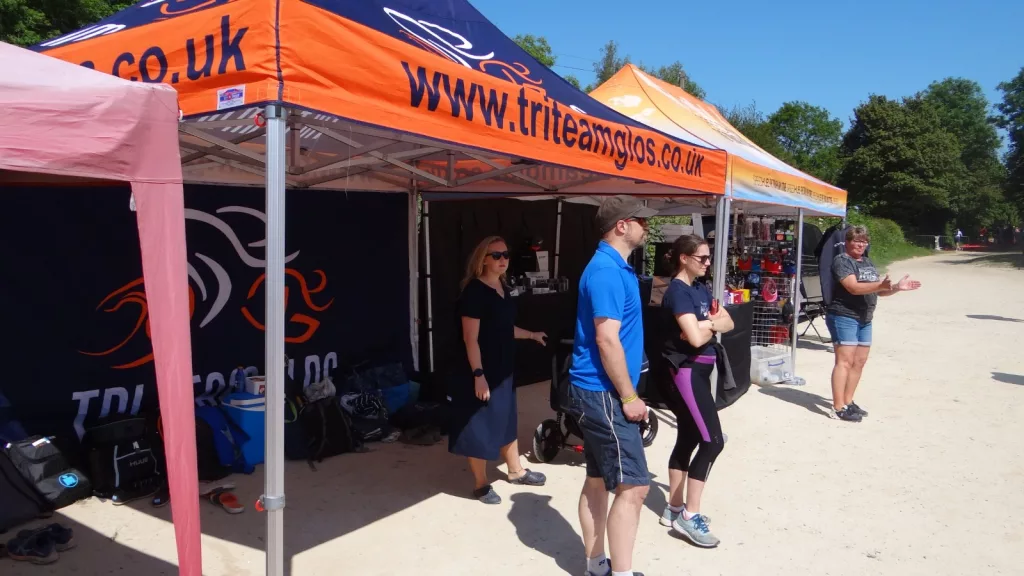 I know that some people have written full race reports. I'd urge you to read them to understand
quite what each individual went through… I'm not here tell their story. I did ask for a few words
from competitors to give a flavour of the day;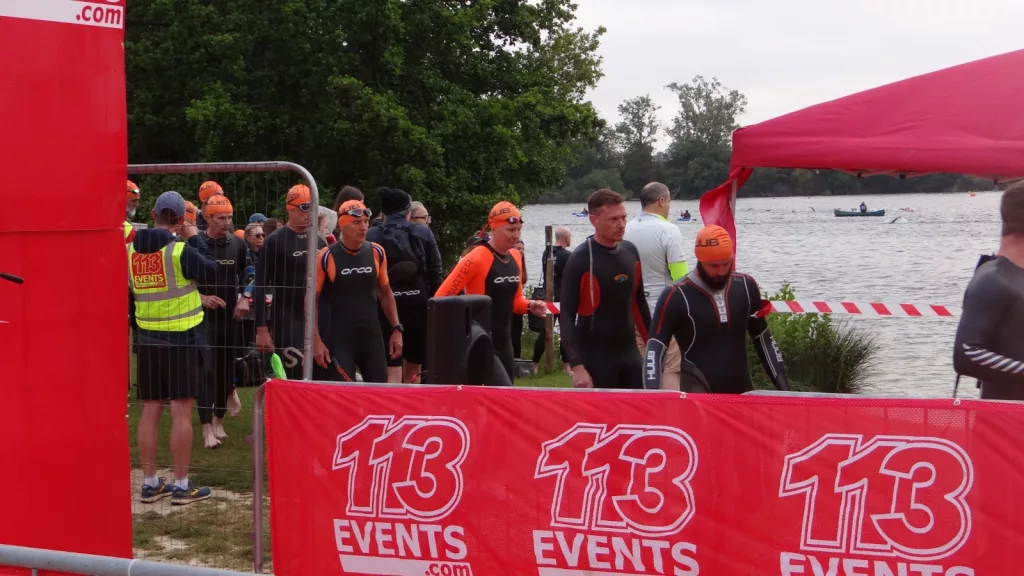 'Absolutely fantastic day to be part of. Thanks to everyone at TTG whether competing in the
race or supporting from the side lines. Some great racing and a real show of grit and
determination to get to the finish line, even when things weren't going to plan.'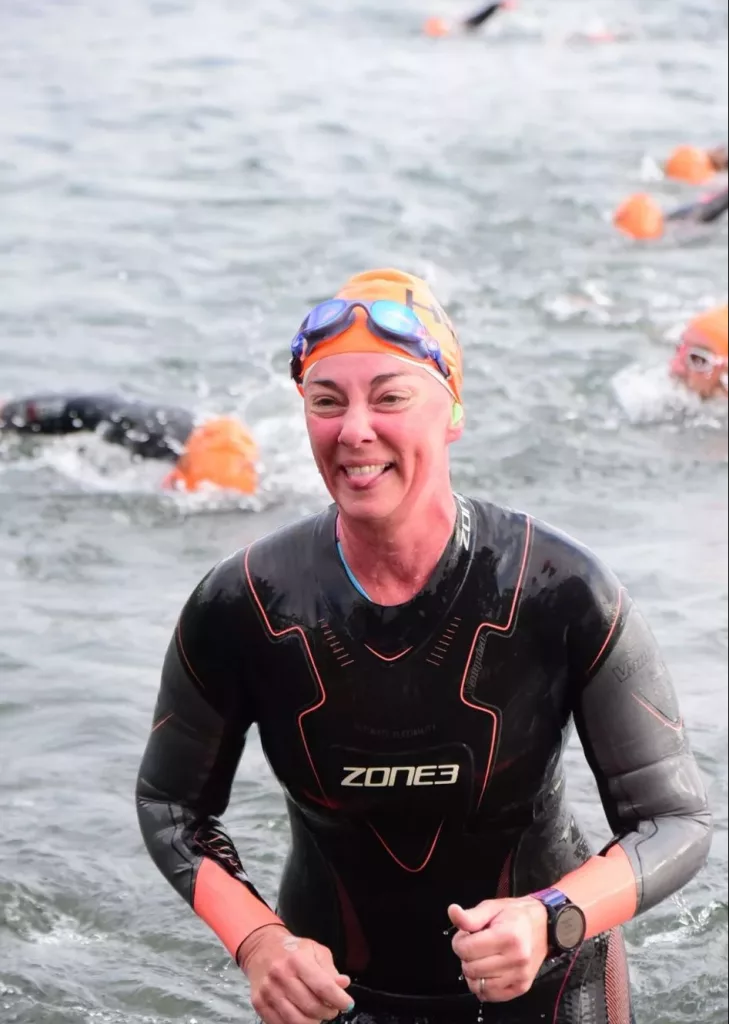 'The huge TTG line up made this one of the best races I've ever done – Tri races are often a bit
lonely but the team spirit made this one quite different and special. Life has been a bit hectic
and hard recently and being part of this group has been a huge positive and kept me in a good
place so a massive thank you to the team.'

'I signed up straight away with no thought of my previous attempt at the race in 2020 where my
legs only just dragged me round. What appealed was the opportunity to race with lots of other
club members, something we don't really do enough of. And that was the 2023 race in a
nutshell – A great day out with club mates; lots of support, banter and on course
encouragement. The best orange and blue turn out I've seen in 11 years here.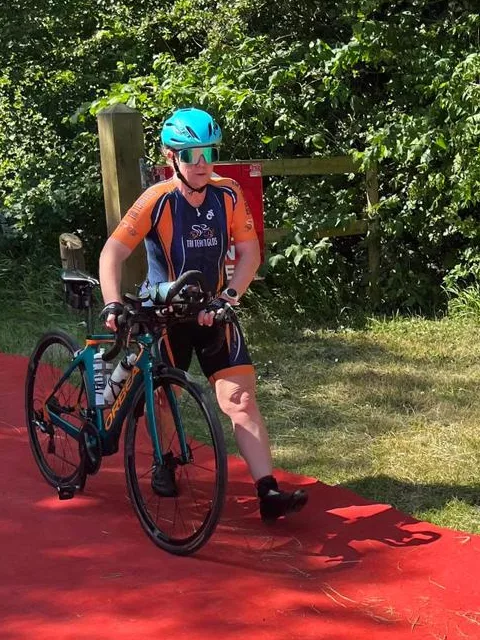 'Race wise I really enjoyed the swim with times I was chuffed with. The run was tough from the
off with various pains emerging and receding to the point it felt like I was walking more than I
was running in the last 10km. All the pain lifted in seeing and crossing the finish line and
chatting with everyone at the end. What a great day out!'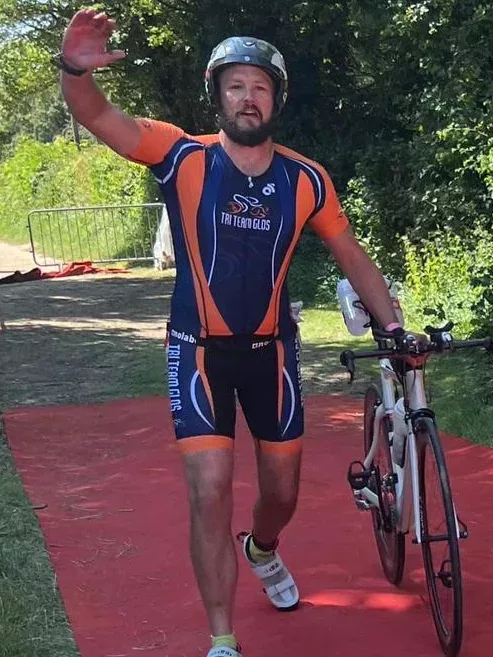 'A distance never to be underestimated and to be able to race alongside other club heroes
made it a very special day.'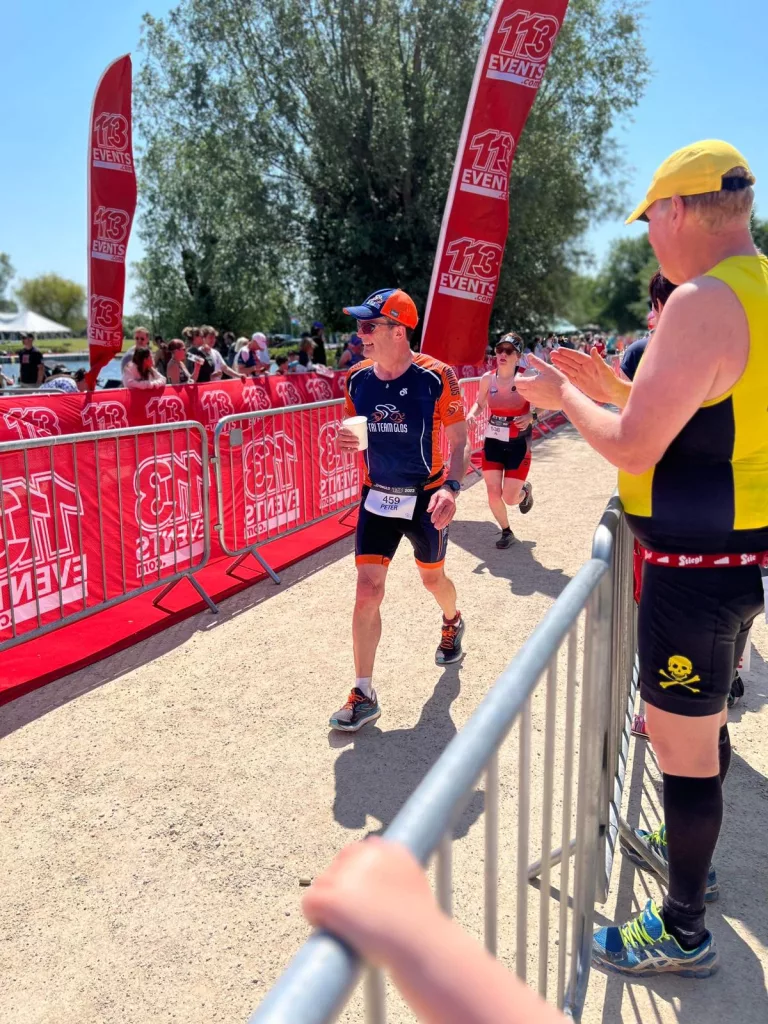 The race itself started out with a chill in the air but soon warmed up. By the time the run came
around it was quite hot in full sun. Thankfully the course did have some shaded sections! A
pretty tough race in the end.

Katie Keates set up camp in a local coffee shop and invited people along for a chance to chat
through their experiences the morning after the race. I think this was a lovely idea! Any excuse
for coffee and that well known post race elixir – cake!
A number of people were able to make it, namely the sensible ones who booked it off work.
Importantly I think it helps to recognise the achievements of each individual and a chance to
reflect on the progress that has been made over the 6-9 months of training culminating in the
race day.

I've promised not to suggest any 'target races' to really try and get a good turnout to for the rest
of the year. That doesn't mean that others won't! The benchmark has been set. Next year will
hopefully have a couple of distances we can all have a bash at and see the blue and orange
flying proud. Rest assured there will be ample time to ready yourselves.
On a personal note I have received a few thank you messages but honestly I feel this is
misplaced. The real thanks should go to everyone that contributed to such a fantastic day. It
really has been a pleasure.
That is all! …Until the next
P.s – Honourable mentions to Kate Weeks (1st in age group), Mike Daly (2nd in age group) and
Derek Austin (3rd in age group). The rest of us just need to try a bit harder!!
Club Championships – Tewkesbury Tri 24/09/2023
The committee have targeted the Tewkesbury Triathlon at Croft Farm on the 24/09/23 as this years Club Championships. As part of a negotiation by the separate race committee, 10 free race places were exchanged and secured for members to race in the event. Those entries have been allocated, check WhatsApp and private massages for codes and details. We have approached TTC to allow us to set up basecamp there (Marquee and all) and have a bit of a social setting at the venue.
Updates will follow, but we urge as many members as possible to enter up, on top of those already racing for free, to get a good strong club champs in the bag. A bit of friendly competition and maybe an opportunity for some friendly rivalries to be settled over a sprint distance non the less. That aside, just turning up and proudly flying the TTG flag will suffice in an opportunity for all members to come together on away territories and enjoy themselves. Save the date, get entered up and go TTG!!
To enter – click here
Parkrun and Cake – 24th June 2023
For those who are partial to a bit of cake (and a parkrun of course), Katie K has suggested and offered out Gloucester City Parkrun on Saturday 24/06/23. Upon completion, a meet at (what could be a reserve HQ to the club) at Brew and Bake off Llanthony Road, Gloucester. If you do not want to run, just come for cake that's fine, please join us. Likewise, if you don't want cake, but just want to run, we won't judge you. Again, this is an opportunity to get the club seen and noticed in public and provides great PR for the club.
Passion Fit Seminar/ Workshop.
Please see WhatsApp for all the relevant details on seminars that have been arranged by both Club Chair and Club Secretary, Katie W and Charlie B, for Passion Fit Pro Athlete Lydia Dant to host a seminar/workshop for the club in due course. The dates are yet to be confirmed depending on members availability, Please can members fill out the voting forms ASAP to help both Katie and Charlie arrange this fantastic opportunity for the club.
Ironman Wales – Tenby 3rd September 2023
Hopefully the majority of the membership are aware that Ryan and Jon M are taking on the long course at IRONMAN Wales in September. Do you want to come along to?
You do not have to race, do not worry. I for one will be heading to Tenby along with a couple of others to be there for the entire race day, to soak up the atmosphere, experience the excitement and more importantly to support Ryan and Jon and help them where ever they need. My plans are to travel on the Saturday and Return on the Monday. If you are interested or are travelling down and want to co-ordinate meet ups, contact me on WhatsApp.
Whilst it is still just under 3 months away, Tenby is a fair distance from home and accommodation is booking up quick, if not already booked up. If you are free, and not racing on that day, why not come down… It may tempt you to go long yourself (or put you off) but either way, I am sure that the support will make the extra difference to the boys when they are fighting on. Either way chaps, Good Luck!
TTG on the Socials.
We have recently created a new Instagram page which can be found here. @ triteamglos is the user name on there.
Facebook page has remained the same and can be found here.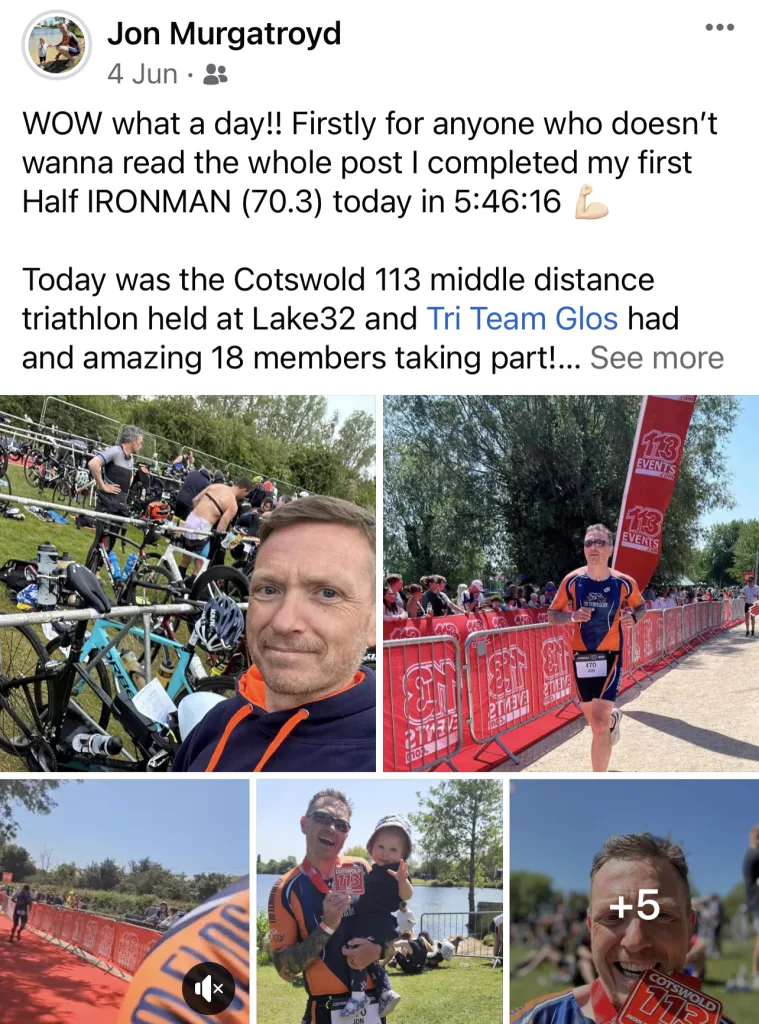 With both accounts, if you are on social media and you take part in events/races or even post about your training, why not tag the club in your post too. Like Jon (above) or Tricky (below).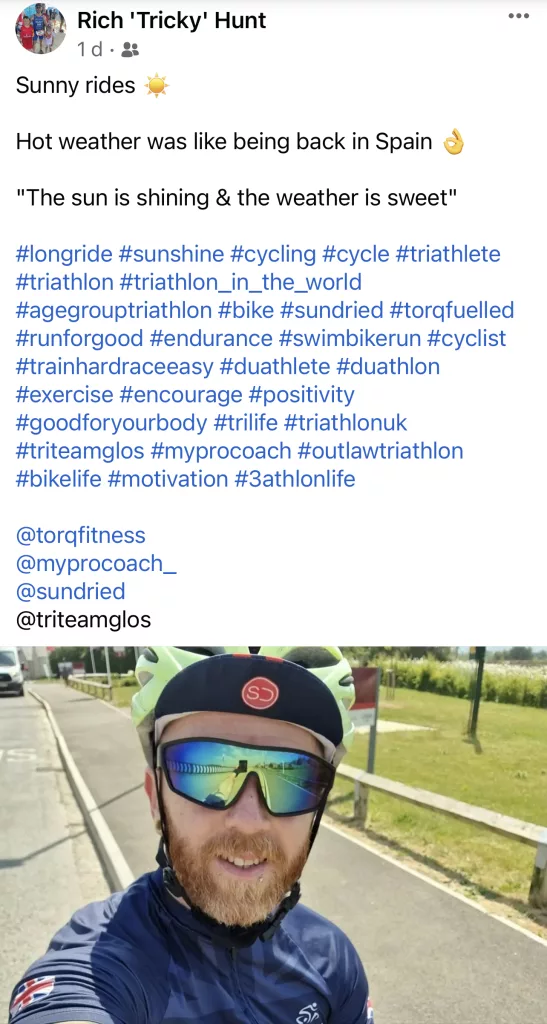 Your audience can then see what you are part of and this helps spread the word about our fantastic club. (If you are not on social media or are not fussed by it, then carry on spreading the word the good old fashioned way – word of mouth )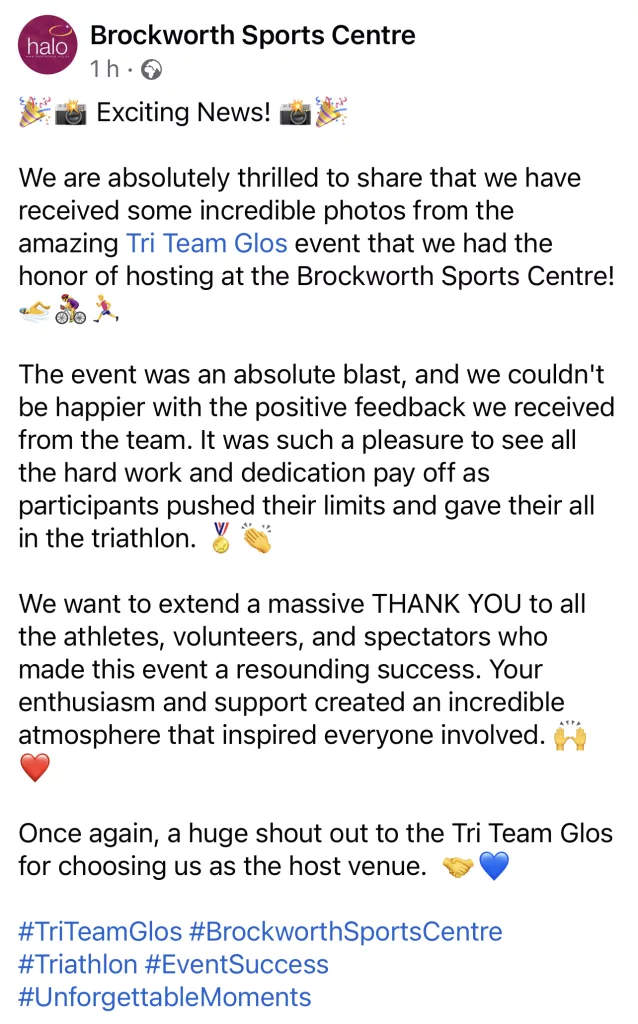 The above was posted today as a result of the club race at Halo sports centre, Brockworth. That resounding THANK YOU goes out to all of you that helped in one way or another to make the event a great success and lays the foundations for future events. Well done guys.
Members & Memberships
Since the last roundup , we have welcomed 2 new members. One of those is featured below (with his permission). A message has been recently circulated about overdue memberships and the details are on the club announcement and members group. The deadline is the 30th June 2023 for renewals this year, so please can we urge those who are yet to do so and intend on renewing, do so at their earliest convenience.
One of our newest members , James Baker, joined the club just under 2 weeks ago. For those of you that don't know, James took on his first triathlon this year 21st May 2023, in the form of the #51FIVER standard distance event at Cotswold Water Park, South Cerney. I was lucky enough to see James there, and can say that his performance was nothing short of amazing, and reminds us all that everyone's journey is different, no matter how big or how small. His background too is inspiring, which when you speak to him, you too will agree. Since joining, James has been down to swimming sessions and is raring to go on bike rides too. You can follow James' journey on his insta page here. Welcome to the club James!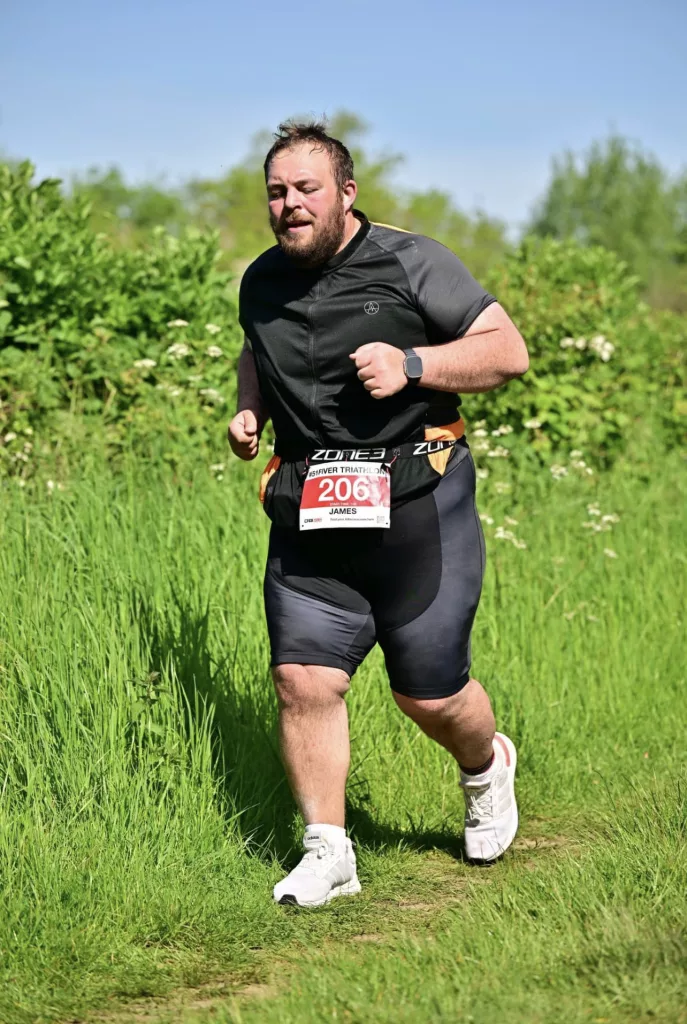 Upcoming Week
Monday
Coached Swim at GL1 2045-2145 Hours (Coach Charlie)
Tuesday
Ploddy 1730hours onwards (see whatsapp)
SVV TT around Elmore (Ping Gordon for details)
Wednesday
Coached Swim at GL1 2000-2100 hours (Coach Tim)
Thursday
DRC TT U7b (Course permitting)
Friday
Ploddy 1730hours onwards (see whatsapp)
Saturday
Ride TBC / Park run
Sunday
Ride TBC (Father's Day)
If you are planning anything and would like some company, please share it out in the group. There maybe others that want or need the motivation at times to train and you could help them do that.