It's been a busy couple of weeks for all our TTG members, in no particular order….
Group Rides
Group rides continue with the standard levels of gusto with the club organising rides most Saturday and Sundays throughout the summer season. All of our rides are no drop and social pace by default and normally include a coffee stop so keep an eye out on the WhatsApp groups and come along!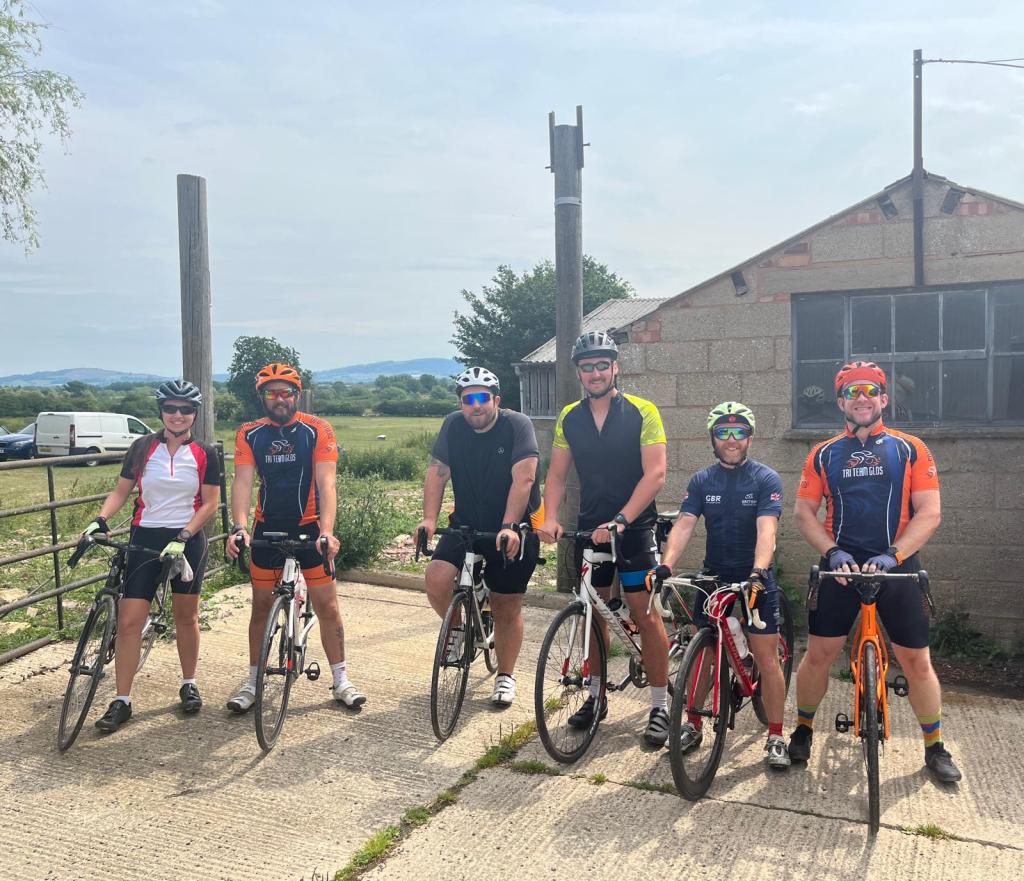 Gospel Pass & The Tumble
A small group of us set out bright and early on Sunday morning for an 80+ miler through south wales taking in some stunning scenery. Gordon, Dariusz and myself met up just outside Ross-on-Wye at 7am on Sunday to tackle what would be both mine and Dariusz's longest ride and for me at least the most elevation in a ride… fun!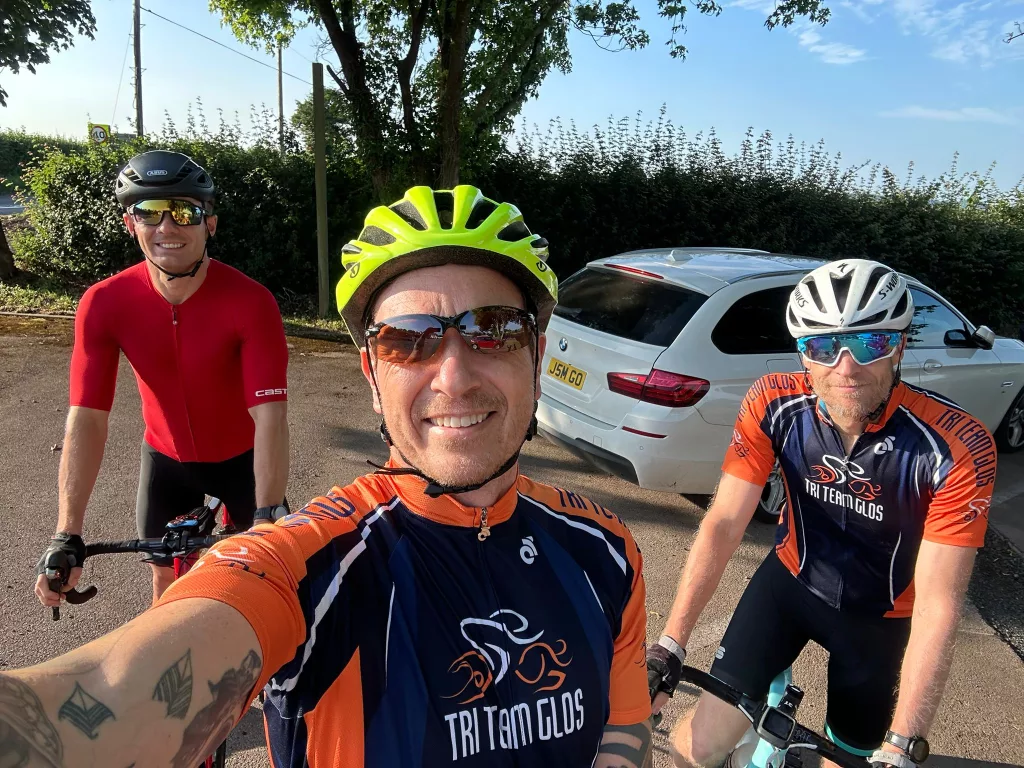 First part of the route was a relatively flat and speedy ride over to Hay-on-Wye which is the starting point for one end of the Gospel Pass, the highest road pass in Wales (549m above sea level). Once we turned off the feeder road we started the 4.7km official climb segment we were met with a 23% gradient! Thankfully it's not for long and the climb levels off, taking it fairly easy for the next few km before a little bit of a kicker towards it's peak (average gradient overall was 5.8%). The pay off, some absolutely stunning views all around and a super quiet road.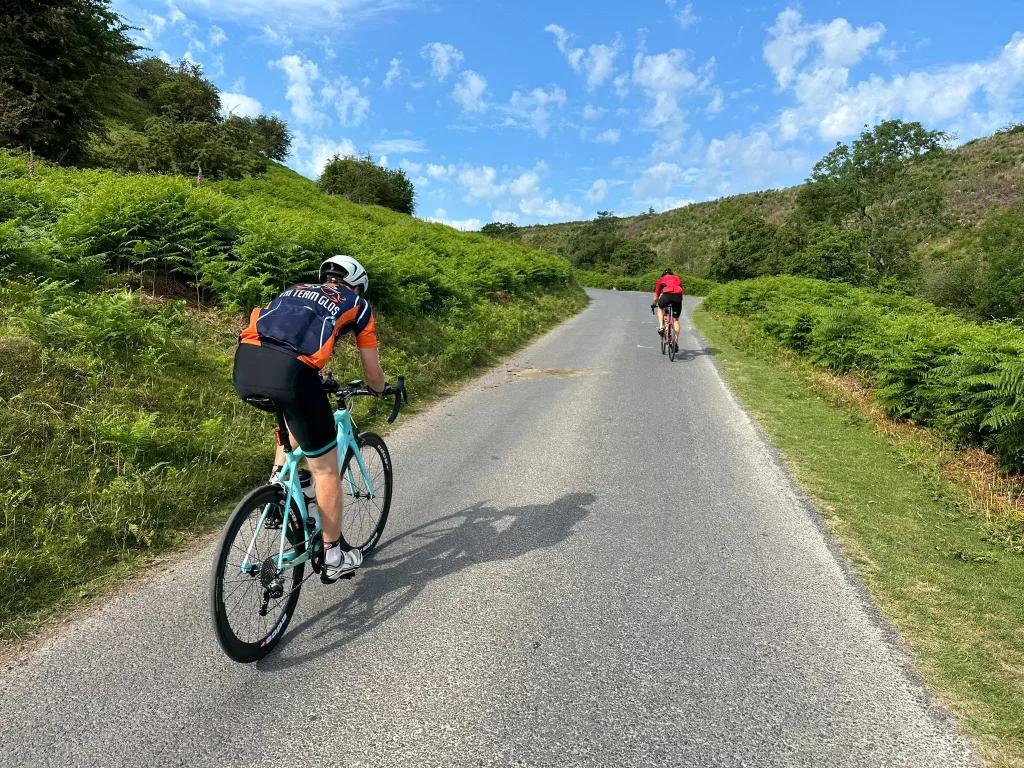 This being a single track road the descent was what I'd call "sketchy" at best, not a very well kept road we couldn't really let it go on the way down and had to stop several times for traffic coming the other way, thankfully the views were even better on this side as the valley was more prominent with far stretching views of woodland and the odd building here and there. Back down to a more reasonable height we made our way to Abergavenny for a much deserved pitstop of full fat coke and salty crisps, pure heaven given the heat, but we still had another climb to go, one none of us had done before… The Tumble.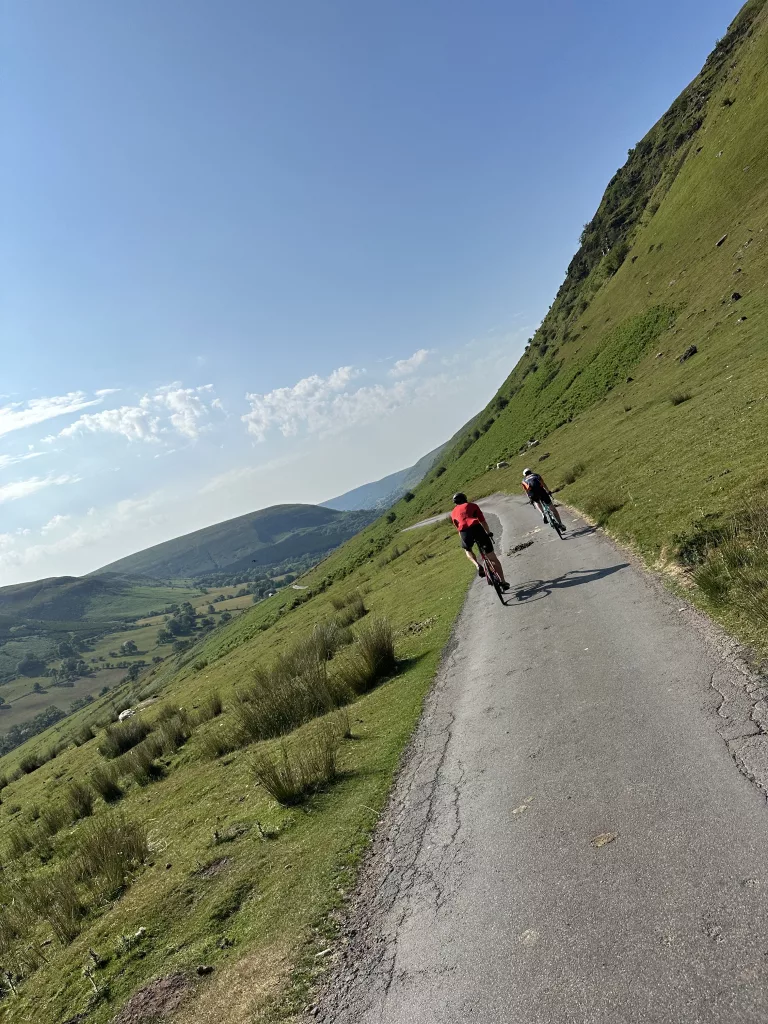 We wound our way through the town and located the feeder road for the next climb starting and oh boy this one was a proper slog… at a distance of 4.1km it was a relentless unforgiving continual climb with not an ounce of elevation given back along the way. At it's peak it was only 13.5% but the average gradient was 8.5% giving you an idea of just how unforgiving it was. The top couldn't come soon enough, yet it seemed to refuse to come! However, once there the views are again stunning though not quite as good as Gospel Pass though here we were treated to a lake which was teaming with people swimming, boating and SUP'ing and there was even an ice cream van!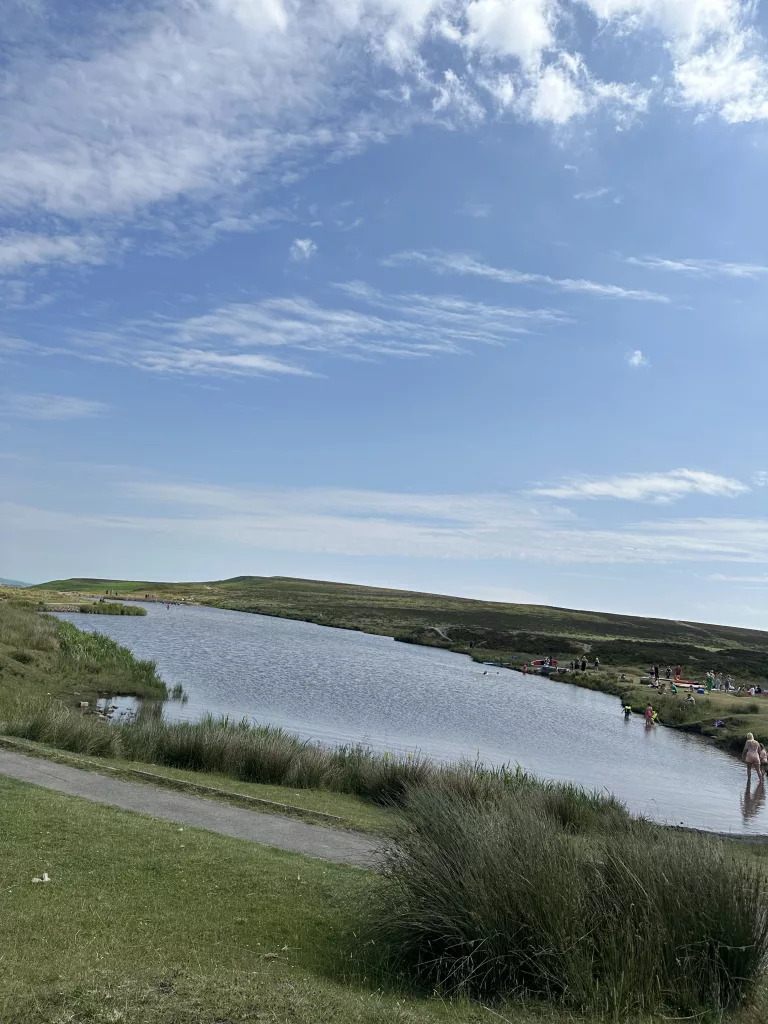 Quick chat, a few pictures and it's back down we go on a much better road though sadly not for long as we hit the town of Blaenavon and head back north towards Ross and back on another little climb before the 20 miles back along rolling hill after hill which looked small when compared to what we'd just done but mark my words they didn't feel small. We had one mechanical on the way back in the form of a puncture for Dariusz, which turned out to be handy as he'd never had a flat before so was great practice for him under the expert guidance of Gordon. Whilst stopped we have a group of riders from the Torfaen Triathlon Club stop and check we were good, super friendly bunch and we had a quick chat about Cotswold Classic (one of them is going it next week) and IM Wales (one of them did it last year and will be this year).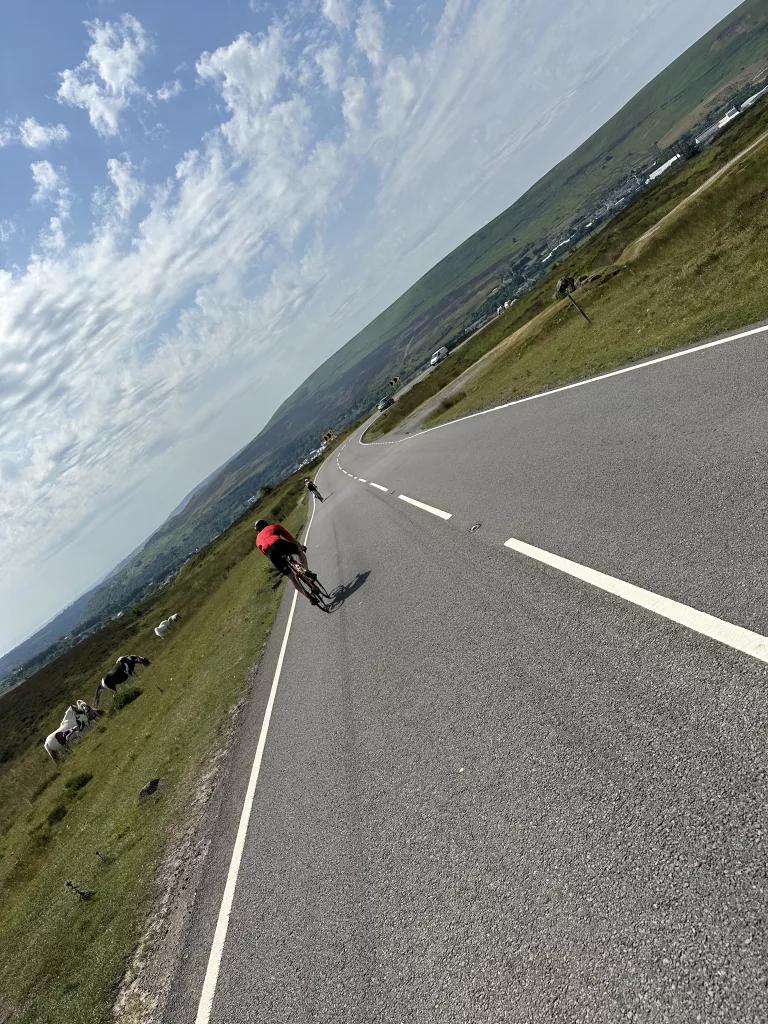 Flat repaired and back to our annoyingly lumpy ride to our starting point which we were all very happy to reach having pretty much run out of water thanks to the super hot day. But success! We all made it back, smashed our longest rides and had an awesome time. I've now got to plan for a 110-120 mile ride in a few weeks but for Dariusz he has far more pressing matters by way of IM Bolton next weekend!!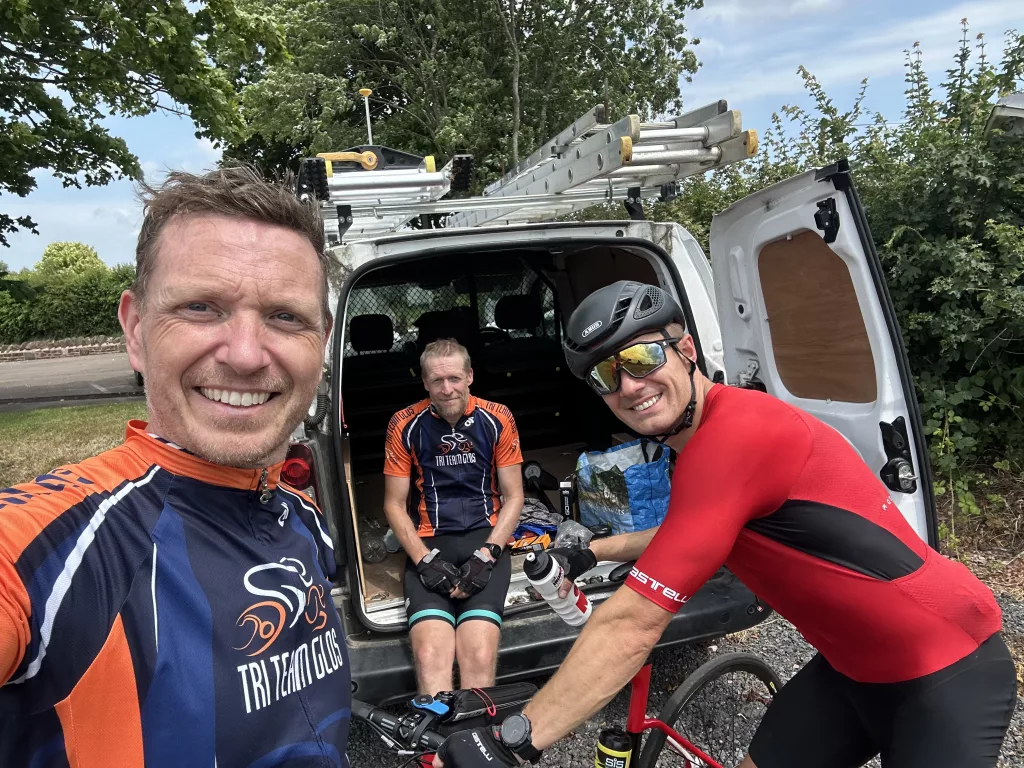 Parkrun + Cake
On Saturday 24/06/2023, it was committee member Katie Keates birthday and as such we arranged a "Parkrun and Cake" at Katies favourite coffee shop, with a great turn out from our members, although suspiciously a couple of extras showed up for coffee…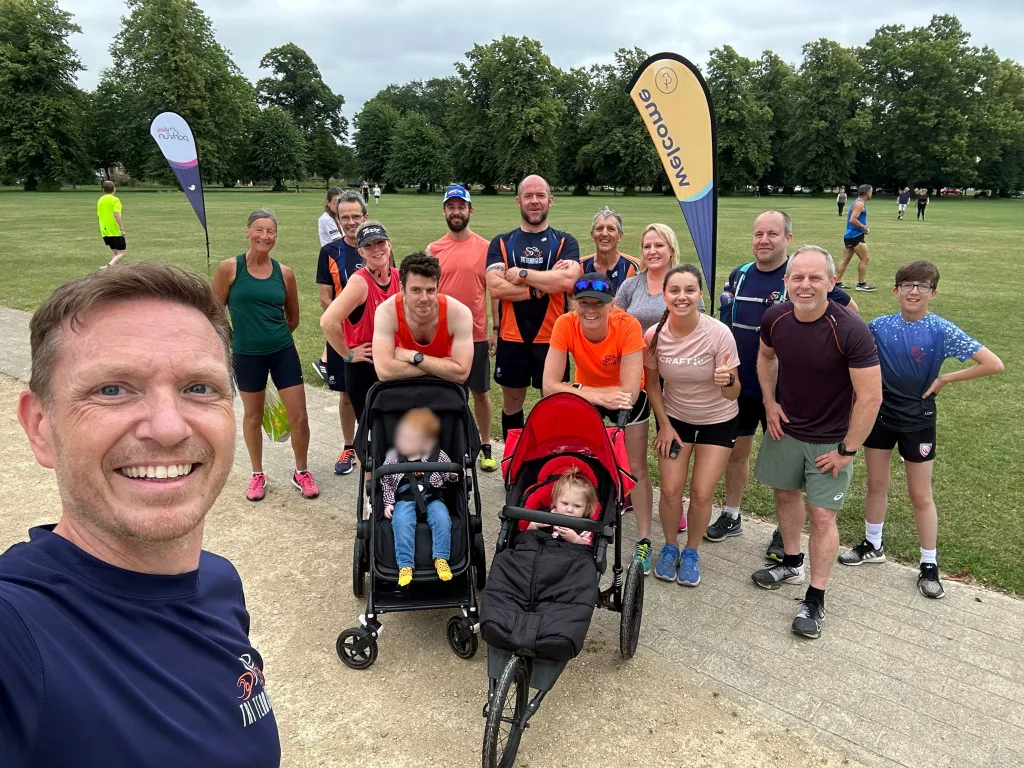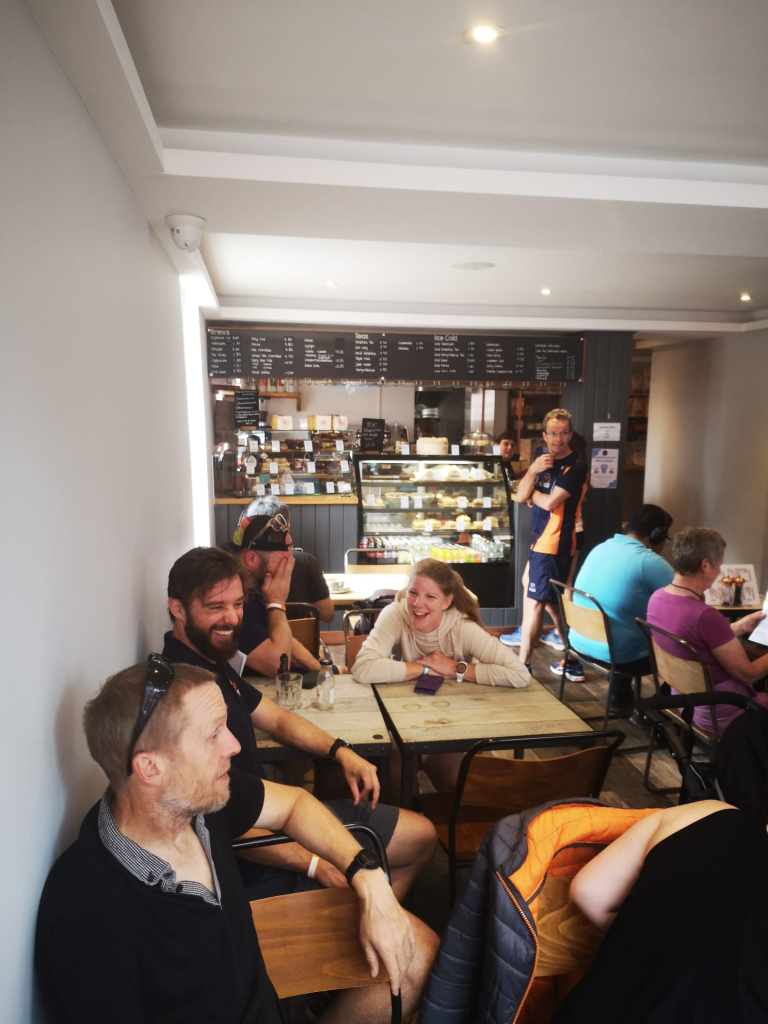 Challenge Roth
Our very own Gav Kruk raced Challenge Roth on 25/06/2023 finishing in an amazing 11 hours 57 minutes, amazing job Gav, we look forward to seeing a write up once you've recovered!
Gav has kindly shared a write up which you can find here.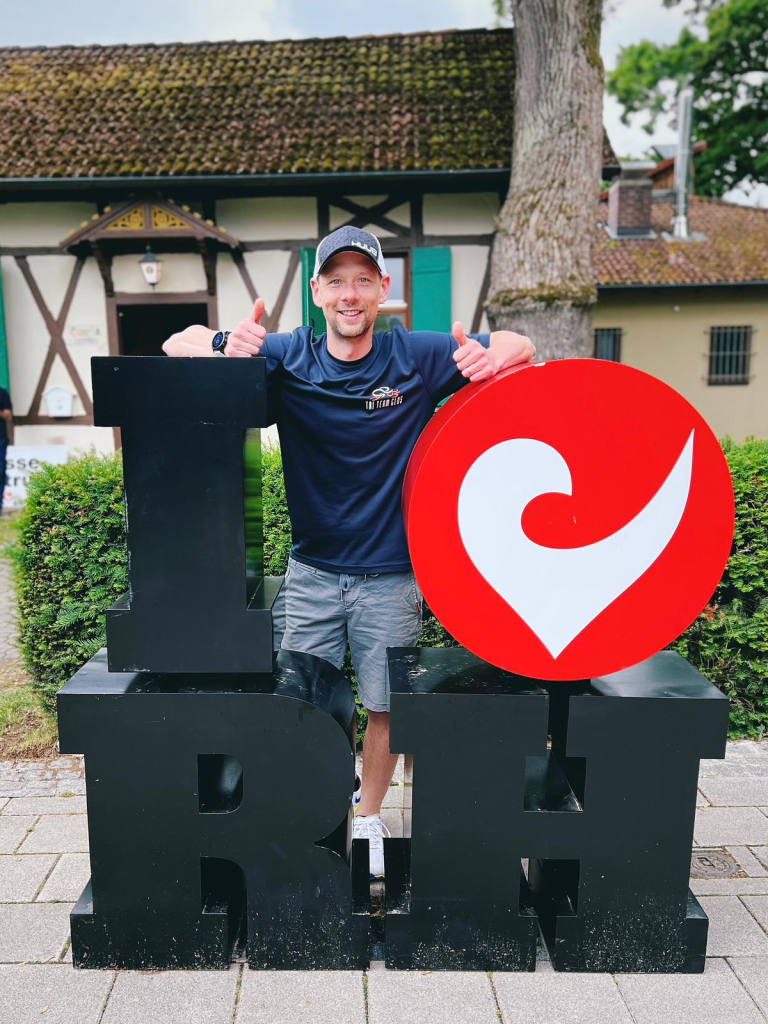 Cotswold Swim
Tim and Yvonne took part in the Cotswold big swim with Tim completing the 10k distance and Yvonne completing the 5k. "T'was a lovely 23 degrees although rather busy with many different distances starting at different times making it a tad congested in some areas. Still, we survived even though we're a bit achy around the shoulders; it is a long way after all".
If I'd swam 10k and my only issue was a marginally achy shoulder I'd be pretty pleased! Great job both!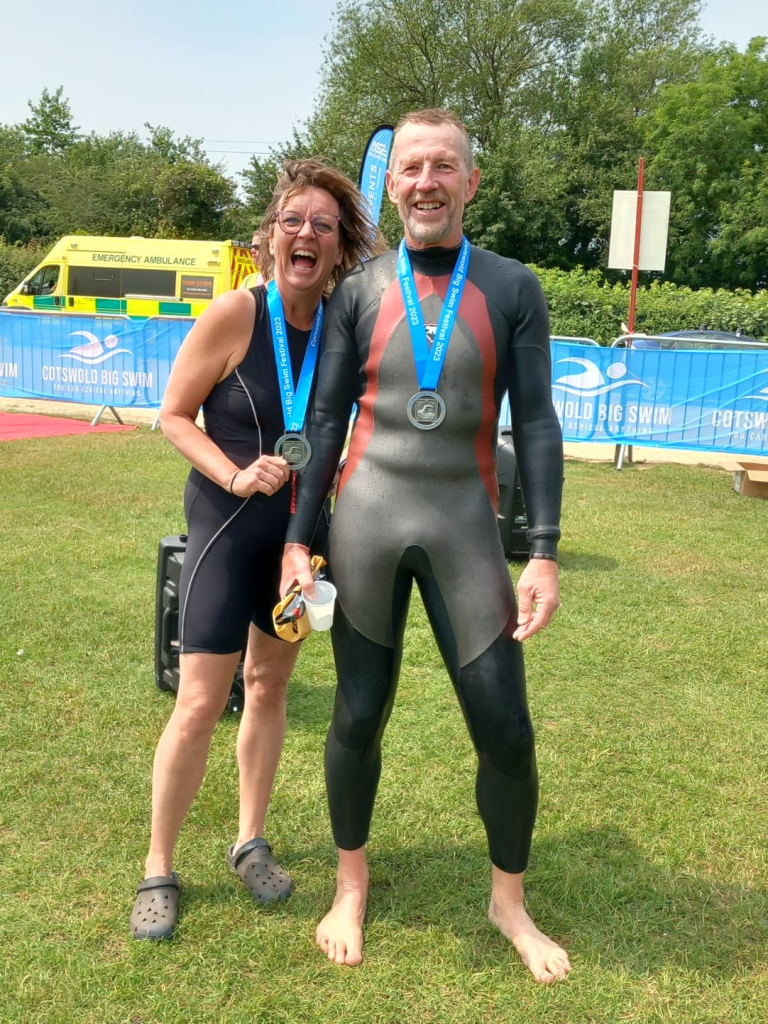 Wild Boar Triathlon
Andy Jones completed the Wild Boar Triathlon in 6 hours 38 minutes
Glos 10k
On 25th June a number of our members raced in the Gloucester 10k a great local race.
Katie Topp: 53:37
Ryan Green: 44:13
Alex Clark: 53:38
James Baker: 1:26:57
Dave Heywood: 52:28
Well done to all of you on a hot day!
Dragon Ride
Ryan Green took on the Dragon Ride on 18/06/2023, you can read all about it here.
Training Sessions
Training sessions continue with their standard gusto, as a reminder: our coached swim sessions are on a Monday and a Wednesday evening at GL1.
There was also a "special" session last Tuesday (22/6/2023) at the Evesham Velopark run as a collaboration between Tewkesbury Tri Club, Cheltenham Tri Club and of course TTG with our own Charlie Barnard and local professional triathlete Lydia Dant running a coached session specifically aimed at our Female members. A brief summary from Katie Weeks our club chair:
In a nutshell – After a recent forum held for the Chair's of regional triathlon clubs focused on
Inclusivity, it was agreed by our neighbouring clubs, Cheltenham and Tewkesbury that we
should rally together and utilise what we ALL have to offer to help EVERYONE out.
Ultimately resulting in being able to host special sessions throughout the year (FOC to club
members) that will hopefully encourage all those who need a little more encouragement to
get going!
Alongside this – as a collective we applied for the Inclusivity Grant of £250 from BTF – and
we WON!
So to kick it all off, we offered a women's only cycling session at the fabulous Evesham Velo
Park last week and with no expectations really – we were chuffed to see 16 names scribbled
on the sign up list!
On a hot and muggy evening 16 lovely ladies gathered at the Velo Park and split into 2
groups, pending on what they were wanting to focus on.
Each group was led and coached by either our own superb Charlie Barnard or PassionFit's
professional Lydia Dant.
Well….all I can say is – not only was it educational and really quite useful – but it was bloody
good fun! It was a great opportunity to meet other members of different clubs and share
thoughts and ideas amongst us on how we can work closer together as clubs.
It for sure was the start of what we hope to be a productive and successful collaboration so
watch this space as we are hoping to host the next session quite soon and have some rather
wonderful and whack ideas!
(Please, however, do come to me with any ideas of sessions you would maybe like to see –
ie. transition practice, crowded swimming practice, running straight of the bike ((avoiding
wobble legs)) – anything you need))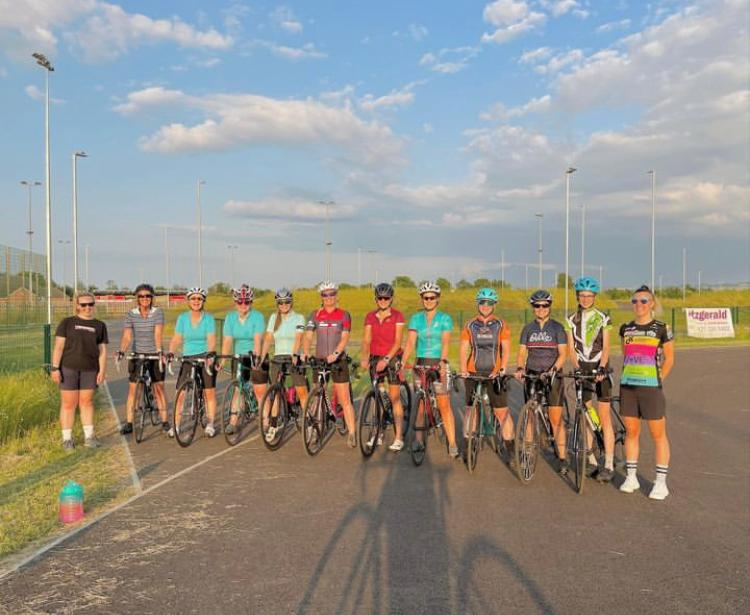 Tour De France Fantasy League
Pete Jones has set up a Tour De France fantasy league, please ping him for further details.
Flight Club Social
It's about time we have another social and we were thinking that Flight Club in Cheltenham could be a good way of some friendly competition! They also do pizzas, sharing boards etc that we can pre-order if people wish. We thought Thursdays would hopefully work well around training whilst not interfering with weekends – but shout any other ideas! We would look to meet 7-8pm, it shuts at 1am if we want to be really wild🤪The link to the food is here: https://flightclubdarts.com/food-drink-cheltenham#menu-food.
Please ping Hannah Randall or Katie Keates for further info.
Coming up
As well as the standard fare coming this week, we just want to wish Dariusz the very best of luck at Ironman UK this weekend, go smash it and most importantly DBS!